Last updated: Oct 6, 2021
Spinal Cord Stimulator
Chronic back pain changes your life. Each day presents a challenge, and you have to give up many of the activities you love. One solution is spinal cord stimulator therapy that delivers pain-stopping pulses of electricity as needed. The process involves a minimally invasive surgical procedure to implant a device that lasts up to 10 years. Call today to see if you qualify for a spinal cord stimulator.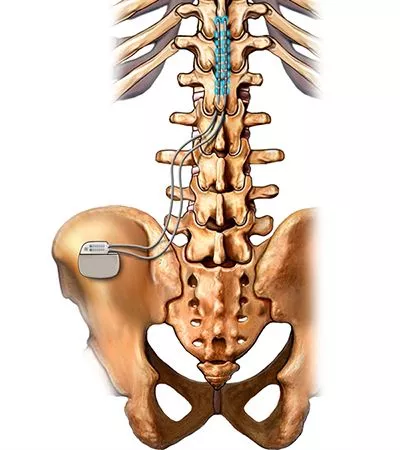 Sometimes, we can't fix the cause of your chronic back pain directly. But that doesn't mean you're stuck living with it. Whether due to an injury, disease, or age, chronic back pain limits your quality of life. Some causes of chronic back pain include:
Angina
Spinal cord injuries
Nerve pain
Complex regional pain syndrome
Post-amputation pain
Peripheral or visceral pain
Multiple sclerosis
The New Jersey pain management specialists at Redefine Healthcare offer you pain relief with a minimally invasive spinal cord stimulation procedure.For this therapy, your pain specialist implants a small device that sends electrical currents to the nerves in the injured area, masking your pain impulses.
Although spinal cord stimulation doesn't eliminate the cause of your pain, it lets you get back to most lifestyle activities with less pain.
If You Qualify, You Get a Trial Run
We can perform the procedure on an outpatient basis over several doctor visits. You may be a candidate for spinal cord stimulation therapy if you've had:
Chronic, debilitating back pain for more than three months
One or more spinal surgeries
No luck from conservative therapies
Pain caused by an issue that we can't address in other ways
Pain located in your lower back or thoracic back
No drug dependence or depression in your recent past
A successful trial implant
The trial implant makes sure the device reduces your pain by at least 50 percent. Your New Jersey specialist inserts wires, guided by x-ray fluoroscopy, to the point of pain. They're connected to an external device and tested before you leave. You're given instructions and asked to keep a detailed log about use and results. After four to seven days, you meet with your doctor again to decide if an implanted spinal cord stimulator makes sense.
Receiving Your Implant
If the trial is successful and you've opted for the spinal cord stimulator implant, you are ready for the procedure. You lie on your stomach while the anesthetic takes effect. Using fluoroscopy, your doctor makes small incisions in two spots:
In your back, where your pain originates for the placement of the leads
In your buttock or hip area for the placement of the pulse generator
We place the leads in the space around your spinal cord called the epidural space. Sutures hold them in place. Your doctor may test to ensure the correct placement of the leads. Then the wires are guided down, under your skin, to the implanted pulse generator near your buttocks. This device is smaller than a hockey puck. After the incisions are closed, we observe you for some time before sending you home.
A Two-Week Recovery
We give you instructions about post-op care and recovery, including wound care, medications, activity, and follow-up. The pulse generator is programmed, and your specialist gives you written instructions. The first few weeks after your implant surgery, determine if the spinal cord stimulator will work for you. To make sure the sutures heal, the leads don't shift, and you have no complications, follow these instructions:
Ice the incision sites three to four times a day for 20 to 30 minutes at a time
Shower the day after we discharge you, but don't soak
Wash the incision sites with soap and water, patting them dry
Don't rub the incision areas vigorously
Don't stay in the same position for more than one hour unless you're sleeping
Don't bend, twist or reach over your head
Don't lift anything heavier than 5 pounds
Don't drive for the duration
Avoid all alcohol and non-essential drugs
Avoid strenuous activity
Take medication only as needed
Eat a high-fiber diet and drink plenty of water, especially if you're taking any narcotic pain medication
Walk for five to ten minutes every three to four waking hours
Increase your activity levels as you feel better
Call your doctor right away if you have any severe symptoms — such as nausea, vomiting, a fever of more than 103 degrees, or severe pain that won't subside. Watch for any rashes, signs of infection, muscle weakness, or issues like dizziness, confusion, or excessive sleeping. For these symptoms, seek medical attention.
Living with Your Spinal Cord Stimulator
The goal of spinal cord stimulator therapy is to reduce chronic pain by more than 50 percent. You should be able to return to most normal lifestyle activities. The stimulator may change some of the lifestyle choices you were stuck with because of your pain.
Your implant isn't affected by a microwave, cell phone, or security doors. Make other doctors, including chiropractors and massage therapists, aware that you have the implant before any procedure. Carry your Implant ID, as airport security technology can detect it. To prevent any complications, consider turning off your device before going through airport screening.
The spinal cord stimulator implant devices today are rechargeable. And they only need to be replaced every eight to 10 years. See if you qualify for this therapy. Contact the pain management specialists at Redefine Healthcare today.
Dr. Eric D. Freeman, a highly regarded pain specialist in New Jersey, is board-certified and fellowship-trained in Interventional Spine and Pain Management and Physical Medicine and Rehabilitation. He is an expert in minimally invasive spinal procedures and non-surgical orthopedic care.
Dr. Freeman is a member of the American Academy of Physical Medicine and Rehabilitation and the Interventional Pain Practice Society. In addition, he serves as the Immediate Past President of the New Jersey Society of Interventional Pain Physicians. Dr. Freeman is well-known in the field of pain management as a leading pain management doctor, having been named one of "America's Top Physicians."
Why Choose Redefine Healthcare?
Same-day appointments
In-network, tier-one facility
Comprehensive and compassionate pain care
Convenient locations throughout
Central & Northern NJ
24 hour turnaround on needed notes and documentation
Non-surgical, interventional pain care in Edison, NJ & Union, NJ
Our Locations in Central and Northern NJ
2500 Morris Ave, Suite 220
Union, NJ 07083
10 Parsonage Road, Suite 208
Edison, NJ 08837
922 Main Street, Suite 201
Paterson, NJ 07503
185 Fairfield Ave, Suite 2A
West Caldwell, NJ 07006
197 Cedar Lane
Teaneck, NJ 07666
200 Perrine Rd., Suite 220
Old Bridge, NJ 08857
350 Forsgate Dr.,
Monroe Township, NJ 08831
11 West 25th Street,
Bayonne, NJ 07002