What is Redefine Healthcare?
Our highly skilled specialists, led by Dr. Eric Freeman, a board-certified and fellowship-trained physician, have devoted their lives to treating patients suffering from various spine and pain disorders. We use the most advanced minimally invasive treatments at our pain management clinic. Our goal is to manage your pain safely and effectively.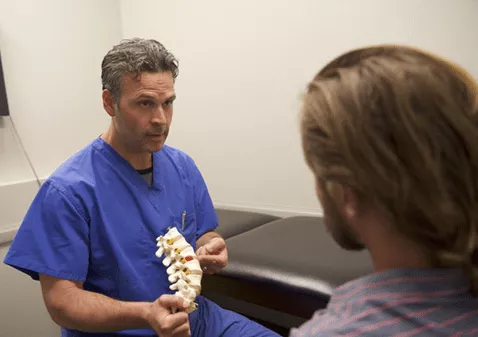 At Redefine Healthcare, you will receive comprehensive, cutting-edge care. The compassionate bedside manner of Dr. Freeman and his team will help you understand your condition and feel at ease with your treatment options. You can be confident that you will receive the highest quality care possible with the assistance of Redefine Healthcare's staff.
A New Type of Pain Management Clinic
Redefine Healthcare is convenient and comprehensive, with six pain center locations in Union, Edison, Paterson, West Caldwell, Bayonne and Rutherford. We are the premier physical therapy practice in New Jersey. Our dedicated staff provides natural relief without the risks and downtime associated with surgery by prioritizing non-surgical and interventional procedures.
Your pain management doctor considers all treatment options but prioritizes proven non-invasive procedures that align with your health goals. Advanced spine and joint care provided by the best doctors can help you avoid surgery.
The following are some of the advantages of non-surgical pain relief treatments at our advanced center:
No incisions to heal
Less chance for infection and other side effects
Shorter recovery time and no hospital stays
No damage to surrounding tissues
Less pain during recovery
No need for prescription medicine or opioids
Unsurpassed Care by the Best Doctors
Rely on Redefine Healthcare's specialists. They are all board-certified and fellowship-trained specialists who have received numerous awards. They've spent years honing their craft at our clinic. Our doctors listen to your complaints, get to the bottom of your pain, and determine the best course of treatment to get you pain relief quickly while preventing future conditions.
We offer the most up-to-date techniques for dealing with pain and assisting you in complete healing. You will receive one-on-one consultations and individualized care from:
Interventional spine doctors
Pain control specialists
Worker's comp specialists
Physical therapists
A dedicated medical staff
Whether you are 22 years old and have suffered a sports injury or 82 years old and have debilitating arthritis, you will receive the care you require at one of our clinics to get you back to your active lifestyle. Injuries sustained in sports will no longer jeopardize your professional career. Athletes can return to the game sooner and with less risk after treatment at Redefine Healthcare than at traditional hospitals.
Visit one of our six convenient clinic locations in New Jersey to learn about all of your options. Visit our center and meet Dr. Eric Freeman, New Jersey's best pain management doctor and leading pain relief specialist.