Neck Injury
A neck injury is a debilitating event. Severe neck trauma can cause paralysis or even death. Due to its serious nature, do not ignore neck pain. While it may be just a pulled muscle, it may also signal something more serious, even if it doesn't cause immediate pain. Don't wait. Call or visit your NJ sports injury doctor at Redefine Healthcare at any one of the four locations in northern New Jersey. You need to find the best pain management specialists to get the best care.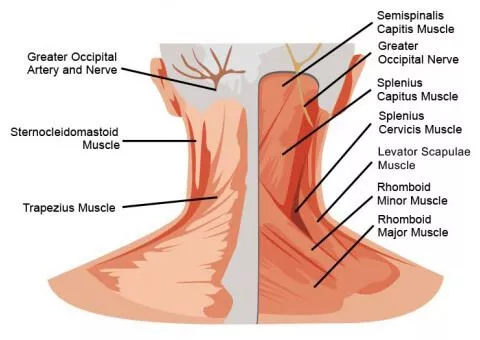 Without the use of your neck, you wouldn't be able to do many things you normally take for granted. Your neck keeps you mobile and healthy by providing structural support and internal functionality to your head and brain. Damage to these structures can alter the course of your life.
Your neck consists of the cervical spine. The cervical spine is composed of the C1 through C7 vertebrae, all the muscles, tendons, ligaments, nerves, important blood vessels and key structures, such as the esophagus and trachea.
Consider that a broken neck can leave you paralyzed for life. Your doctor at the spine clinic in NJ of Redefine Healthcare treats the root cause of your pain and makes sure your injury doesn't keep you down for long.
Causes of Neck Injuries
A neck injury is caused most often by trauma. A trauma is hit or fall that does damage to any part of the neck. It can also come from medical conditions affecting any of the structures in your neck, such as arthritis, cancer, or infection. Neck injuries can result from minor events like strains, sprains, and spasms. You can get injured from a stiff neck, overuse, improper use, or just everyday wear and tear.
Sometimes, a disease process that starts elsewhere in your body can cause damage to your neck. This situation can occur somewhere in your spine, the bones that make up your vertebrae or the strong muscles that keep your head upright and maneuverable. These conditions include:
Types of Pain from Neck Injuries
Your pain relief specialist in New Jersey categorizes most pain based on the onset, duration, or intensity of your pain. Neck injuries can sometimes cause a delayed reaction. The three categories include:
Acute. When the pain occurs within four weeks of your injury, it's acute.
Subacute. If the pain occurs and worsens in four to 12 weeks, it's subacute.
Chronic. The pain lasts longer than three months if it's chronic.
This is a useful guide to help your doctor make a quick diagnosis. In an acute injury, the pain usually resolves in a short time, although it depends on the severity of your damage. An injury that takes a while to develop points to other issues, like a spinal cord injury or a tumor.
Neck Injury Symptoms
Among the many symptoms of any injury, there is always pain. The type and severity of your pain point your doctor to a specific diagnosis. Sudden, severe pain is likely caused by something other than what causes gradual, dull, achy pain. The associated symptoms may reveal the location and cause of the pain.
These additional symptoms of a neck injury include:
Headaches
Muscle spasms
Numbness, weakness, tingling in your neck or limbs
Trouble with your hands gripping things or with your arms when lifting things
If you have certain symptoms, especially after suffering a trauma, you may need emergency care. Difficulty breathing, vomiting, tingling, or loss of consciousness or bladder and bowel control are all symptoms that mean you require immediate medical attention.
Neck Injury Treatment
Immediate treatment or first aid measures are necessary for acute trauma. If medical professionals can't attend to you, get to the nearest hospital. Treatment for acute trauma is performed to stabilize your condition first, so further treatment doesn't cause any more damage.
Neck injury treatment for non-acute trauma, minor trauma, and other diseases depends on the cause. You can usually treat any muscle, tendon, or ligament pain at home after your pain management doctor diagnosis the root cause. If you've broken or fractured a bone, don't try at-home remedies. Your treatment may require a little more time and attention.
Top New Jersey doctors handle all the issues that cause neck injury. Whatever the cause of your pain, know that the best NJ sports injury doctor and a team of pain management specialists do everything possible to get you back to your active lifestyle. Contact Redefine Healthcare today for the best care of neck injuries.
Why Choose Our Pain Management Clinic in NJ?
Same-day appointments
In-network, tier-one facility
Comprehensive and compassionate pain care
Convenient locations throughout
Central & Northern NJ
24 hour turnaround on needed notes and documentation
Non-surgical, interventional pain care in Edison, NJ & Union, NJ
Pain Treatment Locations in Central and Northern NJ
2500 Morris Ave, Suite 220
Union, NJ 07083
10 Parsonage Road, Suite 208
Edison, NJ 08837
922 Main Street, Suite 201
Paterson, NJ 07503
185 Fairfield Ave, Suite 2A
West Caldwell, NJ 07006
197 Cedar Lane
Teaneck, NJ 07666
200 Perrine Rd., Suite 220
Old Bridge, NJ 08857
350 Forsgate Dr.,
Monroe Township, NJ 08831
11 West 25th Street,
Bayonne, NJ 07002