Shoulder Pain
Simple movements like turning the wrong way or throwing a ball can lead to troubling shoulder pain. It may just be a muscle strain, but you may have done serious damage to one of the many soft tissues in your shoulder. Another possibility is an underlying medical condition like arthritis. Visit a top pain management specialist at Redefine Healthcare, NJ pain management clinic with four convenient locations in northern New Jersey for a definitive diagnosis and appropriate treatment for your shoulder pain.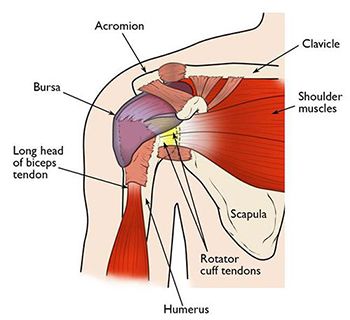 You've just finished helping your best friend move into their new place and now you're experiencing significant shoulder pain. Someone just rear-ended you at the stoplight and you notice left shoulder pain from your seat belt. That last golf shot triggered noticeable right shoulder pain, and you're worried about maintaining your handicap.
All of these incidences and more can contribute to your need to seek shoulder pain treatment. Your pain management doctor in NJ at Redefine Healthcare works hard to treat the root cause of your shoulder pain so you can return to the things that matter to you. Pinpointing whether your shoulder pain comes from a muscle or ligament injury or involves the shoulder joint lets your doctor determine the best treatment possible for you.
Causes of Neck and Shoulder Pain
Although shoulder pain may arise from arthritis or even indicate a heart condition as you age, when you're younger, it's usually caused by injury or strain. Some of the conditions your New Jersey pain relief doctor checks include injuries to or because of:
A broken arm
Dislocated or separated shoulder
A broken collarbone
Sprains
Tendonitis
The rupture of a tendon
Torn cartilage in your joint
Joint inflammation called bursitis
Rotator cuff injuries
Poor posture
Because your shoulder joint involves bones, cartilage, tendons, ligaments and muscles that allow such a wide range of motion, determining the exact cause of your shoulder pain requires experience and detective work. Activities as simple as scratching your back or tossing a ball in the yard can inflame or impinge soft tissue.
Athletes are especially susceptible to rotator cuff injury as repetitive motions increase wear and tear on joints.
Symptoms of Shoulder Pain
Whether you have shoulder pain or shoulder blade pain, your doctor of NJ pain management clinic needs to know more about your symptoms, including when they started, what makes them worse and what gives you relief.
Some common symptoms include:
A dull, achy feeling that gets worse with certain movements
A tingling, pins-and-needles feeling, sometimes accompanied by numbness and weakness that can affect both shoulders
Grinding, snapping, grating sensations, accompanying dull pain when you move your shoulder
An achy feeling between your shoulder blades, especially after being in one position for a long time
Sudden, sharp and severe pain after a fall, accident or blow
Noticeable arm weakness, especially after repetitive motions
Occasionally dull, aching pain, accompanied by a small, pea-size lump in the muscle that's tender and painful to the touch
If you experience sharp pain after an injury or your pain includes nausea, dizziness, shortness of breath and unexplained weight loss, check with your Redefine Healthcare doctor quickly, as these may be indicators of referred shoulder pain. Referred pain usually indicates an underlying medical condition, which may be serious.
Getting Treatment for Your Shoulder Pain
After assessing your symptoms and discussing your medical history, your doctor may order imaging tests such as x-rays, MRIs or CT scans, along with electrical studies to evaluate your nerves and muscle response. Rarely, exploratory surgery using arthroscopy is required to pinpoint the exact cause of your shoulder pain. A diagnosis has to precede shoulder joint pain treatment or shoulder muscle pain treatment.
Usually, conservative shoulder pain treatment works well. Your doctor prescribes rest and activity reduction for a specific amount of time. This gives inflamed muscles, tendons and ligaments a chance to heal. Pay close attention to which activities aggravate your shoulder pain; reducing these activities also lets your shoulder heal.
Along with activity restrictions, your doctor may prescribe heat, ice, physical therapy and accompanying strength and flexibility exercises, as well as over-the-counter pain relievers. If your pain is severe or isn't reduced by these methods, prescription medication, such as painkillers or muscle relaxants, may help. Your doctor also offers steroid injections to combat inflammation and reduce pain.
Surgical Treatments for Shoulder Pain
If you have recurring dislocations or rotator cuff injuries, your doctor may suggest surgical options. Often done arthroscopically, surgery repairs tendon tears, removes bone spurs or reduces impinging scar tissue. Rarely, larger reconstructions or shoulder joint replacement requires open surgical procedures.
Your pain management specialist at Redefine Healthcare works toward symptom relief while treating the underlying cause. Most people benefit from conservative shoulder pain treatments, but your doctor is well-versed in both non-invasive treatments and surgical procedures to give you the best results possible and get you back to the work and play you enjoy most. Contact the best NJ pain management doctor, shoulder experts at the first sign of shoulder pain to increase your chances of a quick recovery.
Why Whoose Our Pain Management Clinic in NJ?
Same-day appointments
In-network, tier-one facility
Comprehensive and compassionate pain care
Convenient locations throughout
Central & Northern NJ
24 hour turnaround on needed notes and documentation
Non-surgical, interventional care
Locations
2500 Morris Ave, Suite 220
Union, NJ 07083
925 Clifton Ave, Suite 203
Clifton, NJ 07013
10 Parsonage Road, Suite 208
Edison, NJ 08837
922 Main Street, Suite 201
Paterson, NJ 07503