Procedure Details
The epidural space, where the disc and nerves are located, is treated with an anesthetic and anti-inflammatory (steroid) solution. This injection is aimed at reducing pain by decreasing inflammation and irritation around the disc and nerve roots before they exit the spine. Herniated discs, sciatic pain, spondylolisthesis, spinal stenosis, and degenerative disc disease can all be treated with this procedure, which can be repeated regularly if required. We can perform the procedure in different regions of your spine, including the cervical, thoracic, and lumbar.
All procedures are done under fluoroscopic guidance (X-ray-guided) to ensure proper placement of the medication and may be performed in an ambulatory surgical center, fluoroscopy suite, or hospital setting. Epidural injections may not be able to change the underlying cause of pain, but they can help break the cycle of pain and make other treatments more effective. You may not feel the full benefit from this procedure for about a week.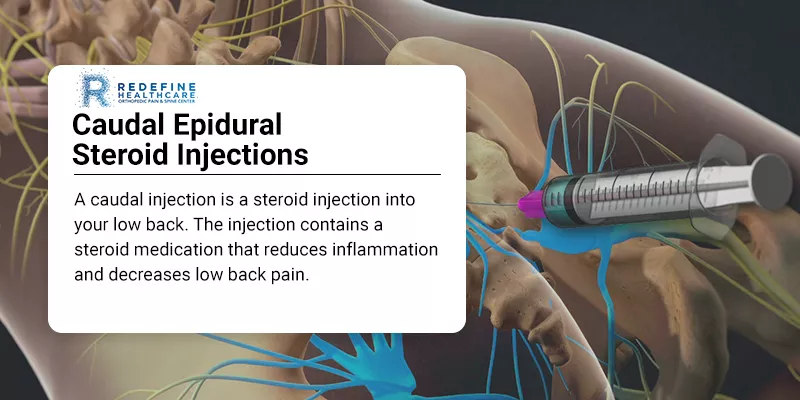 Dr. Cerralo is a terrific pain management doctor. He is compassionate and very caring. I have recommended him to several friends and they agree with me.

Myra
What Can Steroid Injections Be Used For?
Steroid injections can be used for different kinds of injuries, conditions, or diseases, including:
Allergies
Rheumatoid arthritis
Lupus
Multiple sclerosis
Inflammatory bowel disease
Bursitis
Gout
Osteoarthritis
Joint pain
Tendonitis
Plantar fasciitis
Sciatica
Spondylolisthesis
Bony Spurs
Herniated disc
Degenerative disc disease
Degenerative lumbar spinal stenosis
How Do Epidural Steroid Injections Work?
An epidural steroid injection is commonly used as a treatment option for various types of back pain or leg pain. The injection gets its name due to the area it is injected in, which is directly into the epidural space that surrounds the nerve roots and the spinal cord.
The injection can be given into the joints, the muscles or tendons, the spine, or the bursae, which is a fluid-filled sac between some tendons and joints. The injection site needs to be kept clean and dry for at least 24 hours.
Before you get the steroid injection, your healthcare provider might recommend that you stop taking certain types of medications. You must tell your doctor about all the medications you take before the injection and not make any adjustments unless instructed by your doctor.
Your doctor will first ask you to sign a consent form. Afterward, you will need to lie so that the doctor can have better access to the injection site. When necessary, your doctor will use an ultrasound to find out where the injection needs to be given. Once the doctor finds the right place for the injection, a mixture of numbing medication and steroids will be injected. Patients describe this as an uncomfortable shot. However, the numbing medication starts working quickly so that you don't experience any pain.
What Are the Benefits of Epidural Steroid Injections?
If the epidural steroid injection is administered in the lumbar epidural space, it may provide a number of benefits, including:
Reduction of inflammation and nerve pain
Elimination of the need for oral medications altogether
Chance to engage in physical therapy
Postponement of surgery
Most healthcare providers agree that an epidural injection can help when patients suffer from an acute episode of back pain or leg pain. The injection has various drawbacks. Thus it is not always effective. When the injections are effective, their effectiveness is only temporary. The duration of their effectiveness might range from one week to one year. If the initial epidural steroid injection is effective, the healthcare professional may recommend up to three injections within a year.
Are There Side Effects of Steroid Injections?
Steroid injections can lead to several side effects, such as:
Insomnia
Pain around the injection site
Bruising around the injection site
Face flushing for a couple of hours
Thin or pale skin around the injection site
High blood sugar for a couple of days
Temporary high blood pressure
Increased appetite
Simples around the injection site
An infection around the injection site
If the injection site is red, painful, and swollen, it is important to speak to your doctor about it, as infections of the injection site can be serious. In some rare cases, an injection in the spine can lead to bad headaches. If you suffer from such headaches, you must speak to your doctor about it.
Who Is a Candidate for an Epidural Injection?
An epidural steroid injection can be recommended after using a series of nonsurgical treatment options, such as physical therapy, medications, and more. Steroid injections might not be suitable for everyone. You must speak to your doctor if you:
Have had an infection
Are pregnant or breastfeeding
Allergic to steroids
Had a steroid injection within the last couple of months
Had a vaccination recently
Suffer from diabetes, hypertension, epilepsy, or issues with the liver, kidneys, or heart
Take anticoagulants
Your doctor can help you decide whether you are a candidate for an epidural steroid injection or not.

I love this place!!!! and Dr Ceraulo and his nurse Kiran are wonderful. Highly recommend them.

Sandra
Page Updated on Sep 9, 2022 by Dr. Freeman (Pain Management Specialist) of Redefine Healthcare
Dr. Eric D. Freeman is a top-rated, best-in-class pain management doctor. He is a nationally recognized pain relief specialist and is among the top pain care doctors in New Jersey and the country. He is an award-winning expert and contributor to prominent media outlets.

Dr. Eric D. Freeman has been recognized for his thoughtful, thorough, modern approach to treating chronic pain. He has been named a "top pain management doctor in New Jersey" and one of "America's Top Physicians" for advanced sports injury treatments.
Why Choose Redefine Healthcare?
Same-day
appointments
Convenient locations throughout
Central & Northern NJ
In-network,
tier-one facility
24 hour turnaround on needed
notes and documentation
Comprehensive and
compassionate pain care
Non-surgical, interventional pain care
in Edison, NJ & Union, NJ