About
Dr. Warren Grace
Area of Expertise
Interventional Spine and Pain Management
Minimally Invasive Spine Procedures
Neuromodulation
Fellowship
Interventional Pain Fellowship – Mount Sinai Hospital, NYC
Residency/Medical School
The Ohio State University Medical Center
West Virginia University School of Medicine
Undergraduate
West Virginia University, Eberly College of Arts and Sciences, Honors Program
Certifications/Memberships
Board-Certified Anesthesiologist
Board-Certified Pain Medicine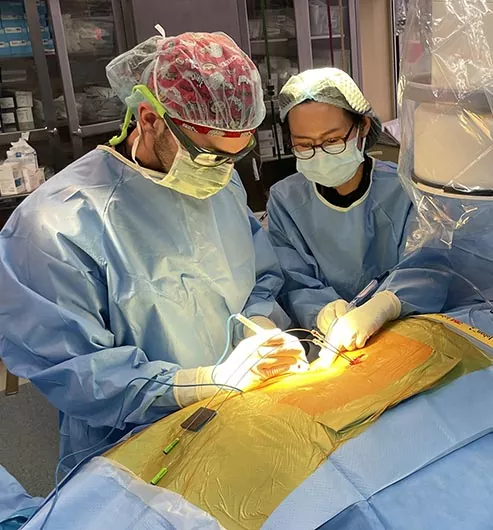 After studying Biology at West Virginia University for just 3 years, Dr. Grace was selected for early entrance to the West Virginia School of Medicine. He completed his internship and residency at The Ohio State University Medical Center and is a board-certified anesthesiologist. He completed his interventional pain fellowship at Mount Sinai Hospital in New York City.
Dr. Grace joins us from Charleston, West Virginia as a former partner of Dr. Tim Deer at the Spine and Nerve Center of the Virginias. Dr. Grace has combined years of experience with thousands of successful procedures to provide improved function and quality of life for his patients. While his patient philosophy blends seamlessly with the rest of the Redefine team, Dr. Grace brings expertise in spinal procedures new to the practice, including sacroiliac joint fusion, minimally invasive treatments for lumbar spinal stenosis (MILD and/or Vertiflex procedures), spinal cord stimulation, DRG stimulation, and peripheral nerve stimulation.
Publications
Gilmore CA, Desai MJ, Hopkins TJ, Li S, DePalma MJ, Deer TR, Grace W, Burgher AH, Sayal PK, Amirdelfan K, Cohen SP, McGee MJ, Boggs JW. Treatment of chronic axial back pain with 60-day percutaneous medial branch PNS: Primary end point results from a prospective, multicenter study. Pain Pract. 2021 Jul 3. doi: 10.1111/papr.13055. Epub ahead of print. PMID: 34216103.
Bendel, M. A., O'Brien, T., Hoelzer, B. C., Deer, T. R., Pittelkow, T. P., Costandi, S., Walega, D. R., Azer, G., Hayek, S. M., Wang, Z., Eldrige, J. S., Qu, W., Rosenow, J. M., Falowski, S. M., Neuman, S. A., Moeschler, S. M., Wassef, C., Kim, C., Niazi, T., Saifullah, T., Yee, B., Kim, C., Oryhan, C. L., Warren, D. T., Lerman, I., Mora, R., Hanes, M., Simopoulos, T., Sharma, S., Gilligan, C., Grace, W., Ade, T., Mekhail, N. A., Hunter, J. P., Choi, D. and Choi, D. Y. (2017), Spinal Cord Stimulator Related Infections: Findings From a Multicenter Retrospective Analysis of 2737 Implants. Neuromodulation: Technology at the Neural Interface, 20: 553–557. doi:10.1111/ner.12636
Hoelzer, B. C., Bendel, M. A., Deer, T. R., Eldrige, J. S., Walega, D. R., Wang, Z., Costandi, S., Azer, G., Qu, W., Falowski, S. M., Neuman, S. A., Moeschler, S. M., Wassef, C., Kim, C., Niazi, T., Saifullah, T., Yee, B., Kim, C., Oryhan, C. L., Rosenow, J. M., Warren, D. T., Lerman, I., Mora, R., Hayek, S. M., Hanes, M., Simopoulos, T., Sharma, S., Gilligan, C., Grace, W., Ade, T., Mekhail, N. A., Hunter, J. P., Choi, D. and Choi, D. Y. (2017), Spinal Cord Stimulator Implant Infection Rates and Risk Factors: A Multicenter Retrospective Study. Neuromodulation: Technology at the Neural Interface, 20: 558–562. doi:10.1111/ner.12609
National Conference Proceedings and Invited Lectures
Knee and Hip Denervation
PAIN 2016, Paradise Island, Bahamas (July 2016)
Professional Memberships and Societies
American Society of Pain and Neuroscience
West Virginia Society of Interventional Pain Physicians
New Jersey Society of Interventional Pain Physicians
International Neuromodulation Society
North American Neuromodulation Society
American Society of Interventional Pain Physicians
American Society of Regional Anesthesia and Pain Medicine
CLINICAL STUDIES
SPR Therapeutics
(SPRINT) A Post-Market Study of Percutaneous Peripheral Nerve Stimulation (PNS) for the Treatment of Back Pain
ClinicalTrials.gov Identifier: NCT03179202
Investigator 2019-2020
Vertos
(MOTION) A Multi-center, Randomized Controlled Study of the Vertos MILD Procedure With Conventional Medical Management Versus
Conventional Medical Management Alone in the Treatment of Lumbar Spinal Stenosis
ClinicalTrials.gov Identifier: NCT03610737
Investigator 2018-2020
Abbott
(BOLD) BurstDR™ microdosing stimulation in De-novo Patients
ClinicalTrials.gov Identifier: NCT03350256
Investigator 2018-2020
Vertiflex
(PRESS) Post Market Registry for Evaluations of the Superion Spacer
Investigator 2018-2020
Abbott
(TARGET) A Post-Approval Study to Evaluate Targeted SCS Spinal Cord Stimulation (SCS) Dorsal Root Ganglion (DRG) Stimulation for the Management of Moderate to Severe Chronic,
Intractable, Pain of the Lower Limbs Due to CRPS Types I and II
ClinicalTrials.gov Identifier: NCT02800863
Investigator 2017-2020
Abbott
(DELIVERY) Randomized, controlled, single blind, prospective, multicenter study evaluating anatomic versus targeted lead placement for BurstDR therapy during the trial evaluation period.
ClinicalTrials.gov Identifier: NCT03277378
Investigator 2017-2020
Saluda Medical America
(EVOKE) Safety and Efficacy Study of the Evoke™ SCS System with Feedback vs. Conventional Stimulation
ClinicalTrials.gov Identifier: NCT02924129
Investigator 2017- 2020
Mainstay Medical
ReActive8 Implantable Neurostimulation System for Chronic Low Back Pain (ReActiv8-B)
ClinicalTrials.gov Identifier: NCT02577354
Investigator 2016- 2020
Nevro Corp
A Single Center, Prospective Clinical Trial to Assess Senza™ Spinal Cord Stimulation (SCS) System in the Treatment of Focal, Chronic Post-Surgical Pain of the Trunk and/or the Upper Limb(s)
Investigator 2016 – 2017