Patellofemoral Pain Syndrome (PFPS)
Your kneecap is a bone at the front of your knee that protects the knee joint. It also helps your muscles bend the knee joint farther because of the support it provides. When you suffer from patellofemoral pain syndrome, your kneecap becomes damaged, inflamed, or loosened. As a result, you can feel the pain on top of the knee or around the kneecap. Address kneecap pain by calling Redefine Healthcare in northeastern New Jersey for effective treatment.

Working for Redefine Healthcare for the past 5 years has shown me what treating each patient individually actually means. Dr. Freeman is a pleasure to work for and has gained my utmost respect. I have several family members who are patients of Dr. Freeman's and are extremely satisfied. I highly recommend Redefine Healthcare!

Andrea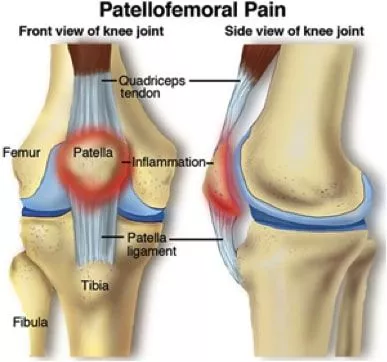 Patellofemoral pain syndrome is a condition that produces pain around your kneecap. You may know the condition as runner's knee or jumper's knee. It involves the kneecap — or patella, as known in medical circles — and the surrounding cartilage. Dull aching pain in the front of your knee, behind or around the kneecap, usually starts gradually. It can escalate if you participate in regular physical activity that relies on extensive knee involvement, such as tennis or stair-climbing.
The condition is predominant among teenagers and young adults, especially if you're a sports enthusiast. Young women suffer the most from this type of knee pain even when they don't play sports. Once you get older, knee injuries and related pain may be due to an underlying medical condition, such as arthritis or patellar tendonitis.
Symptoms of Patellofemoral Pain
Patellofemoral pain syndrome (PFPS) affects either one or both of your knees. This pain causes you to limit specific knee movements.
Because of the structural weakness, your knees may balk or give way suddenly. Straightening your knees fully or extending your legs often becomes problematic.
You're suffering from patellofemoral pain syndrome if you experience any symptoms that include:
You feel knee pain around your kneecap or top of the knee when walking up or down the stairs.
You find it difficult to run, even for a short distance, without feeling knee pain.
Uphill or downhill walking — walking on an incline — feels like a chore.
You can no longer sit in a chair for long periods with your knees bent without being uncomfortable.
You sometimes hear a popping or clicking sound when you stand up or climb up or down the stairs.
Wearing high heels causes you pain.
Exercises like jumping jacks or squats — any activity that causes you to crouch — puts pressure on your knees, causing more pain.
Skinny jeans and other tight clothing cause pain when you straighten or bend your knees.
The Causes for Patellofemoral Pain Syndrome
Patellofemoral pain isn't a condition that comes out of nowhere. The condition usually appears gradually. Common causes of patellofemoral pain syndrome include:
Abusing your knees over a long period, in repetitive movements, or without properly warming up. While using the stairs instead of the elevator is healthier, you can injure your knees if you do too much too soon. This issue happens more frequently when your new physical demands are too much for your body.
Wearing improper shoes, placing additional pressure on your knees. Wear supportive footwear appropriate for each activity — whether you're walking, running, or riding a bicycle.
Getting hit on the front of your knee. Blunt force trauma injures the kneecap.
Training on a hard surface, such as cement or asphalt. Search for a softer surface.
Using exercise equipment wrong. Don't set the treadmill to go too fast. Run at a comfortable pace.
Suffering from patellar malalignment. With this condition, your legs aren't aligned properly between the hips and the ankles. It causes your kneecap to shift out of place every time you bend or straighten your legs.
Treatment for Patellofemoral Pain Syndrome
Over-the-counter medicine reduces the swelling and pain you feel, but this treatment is temporary. Your pain treatment specialist at Redefine Healthcare, with four locations in northern New Jersey, often recommends conservative treatments to begin unless your diagnosis confirms severe care of patellofemoral pain syndrome. A common patellofemoral pain syndrome treatment is R.I.C.E., which involves:
Rest to avoid stressing your knees further.
Ice to bring down the swelling. Place ice indirectly on your knee for 20 minutes several times a day.
Compression to prevent further swelling. Wrap your knee in an elastic bandage that provides a snug fit.
Elevation to reduce blood flow to the area. Place your knee on a pillow or raised surface to lift it higher than your heart.
Your New Jersey patellofemoral doctor may suggest an investment in shoe inserts. These pads fit inside your footwear to help with a misalignment problem. Inserts also take the stress off the lower leg and ankle. In rare cases, you may need arthroscopic surgery to repair the knee.
Physical Therapy to Patellofemoral Pain
Once you're out of pain, you need to undergo physical therapy at Redefine Healthcare to restore the flexibility of your knee joint and strengthen the surrounding muscles, tendons and ligaments.
Physical therapy exercises combat problems such as:
Weakness in your quadriceps
Iliotibial band tightness
Tight hamstrings
Weakness, tightness, or pain in your hip muscles
Calf muscle tightness
Whenever you feel a top of knee pain or pain around your kneecap, especially if it's come on gradually, contact the pain management experts at Redefine Healthcare. After a quick diagnosis and targeted treatment, you can return to your normal activity level with a deeper awareness of your knees.


I have been a patient of Dr. Ceraulo for over 7 years and after decades of doctors who brushed me off, Dr C was the first to not only listen but actually help me effectively learn how to manage my pain. The staff is always friendly and welcoming. Although I now live an hour away from the office I still travel there and refuse to change pain management doctors. It's worth the visit!

Melissa
Page Updated on Sep 1, 2022 by Dr. Freeman (Pain Management Specialist) of Redefine Healthcare
Dr. Eric D. Freeman is a top-rated, best-in-class pain management doctor. He is a nationally recognized pain relief specialist and is among the top pain care doctors in New Jersey and the country. He is an award-winning expert and contributor to prominent media outlets.

Dr. Eric D. Freeman has been recognized for his thoughtful, thorough, modern approach to treating chronic pain. He has been named a "top pain management doctor in New Jersey" and one of "America's Top Physicians" for advanced sports injury treatments.
Why Choose Redefine Healthcare?
Same-day
appointments
Convenient locations throughout
Central & Northern NJ
In-network,
tier-one facility
24 hour turnaround on needed
notes and documentation
Comprehensive and
compassionate pain care
Non-surgical, interventional pain care
in Edison, NJ & Union, NJ