What is Redefine Healthcare?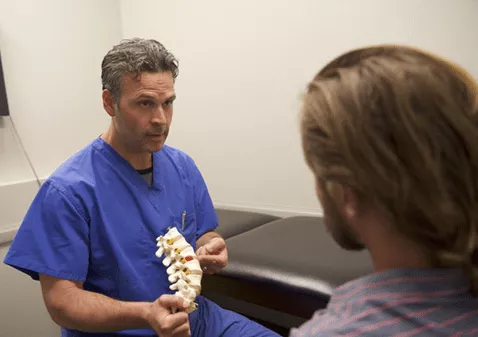 Our highly skilled pain management specialists, headed by Dr. Eric Freeman, a Board Certified, Fellowship Trained physician, have dedicated their lives to the treatment of patients with various spine and pain disorders. At our pain management clinic in New Jersey we are using the most advanced minimally invasive treatments. Our goal is to handle your pain management safely and effectively.
You will receive comprehensive state-of-the-art care at Redefine Healthcare. Dr. Freeman and his team's compassionate bedside manner will help you understand your pain condition and make you feel at ease with your treatment options. With the help of the staff at Redefine Healthcare of pain management clinic in NJ, you can be assured of receiving the highest quality care you deserve.
A New Type of Pain Management Clinic
With four pain center locations — in Union, Edison, Clifton and Paterson — Redefine Healthcare is convenient and comprehensive. This is New Jersey's premier pain management and physical therapy practice. By prioritizing non-surgical and interventional procedures, our dedicated staff and caring doctors deliver real pain relief without the risks and downtime associated with surgery.
Your pain management doctor considers all treatment options, but gives priority to proven non-invasive procedures that keep your health goals in mind. You can avoid surgery with advanced spine and joint care, as performed by the best pain management doctors in NJ.
The benefits of non-surgical pain relief treatments in our advanced center for pain management in New Jersey include:
No incisions to heal
Less chance for infection and other side effects
Shorter recovery time and no hospital stays
No damage to surrounding tissues
Less pain during recovery
No need for prescription medicine or opioids
Unsurpassed Care by the Best Pain Doctors in NJ
Rely on the sports injury clinic and our sports medicine specialists at Redefine Healthcare. They are award-winning pain doctors who are all board certified and fellowship-trained. They've spent years working at New Jersey injury clinic perfecting their skills, yet they take the time to listen to your complaints, get to the bottom of your pain and determine the best course of treatment to get you out of pain fast while preventing future painful conditions.
At this center for pain management in northern New Jersey, you'll find the latest techniques to deal with your pain and help you heal completely. You'll receive one-on-one consultations and targeted care with:
Sports medicine specialists
Interventional spine doctors
Pain management specialists
Worker's comp specialists
Chiropractors
Physical therapists
A dedicated medical staff
Whether you're 22 years old and suffered a sports injury or 82 years old and suffering from debilitating arthritis pain, you get the care you need in our advanced NJ pain management clinic to get on with your active lifestyle. Athletes get back in the game sooner after treatment at Redefine Healthcare, pain treatment center than at traditional hospitals, with less risk too. Make sure you learn all your options; visit one of four convenient sports injury clinic locations in New Jersey. Come see our clinic and meet New Jersey best pain management doctor, leading pain relief specialist Dr. Freeman.
Why Choose Our Pain Management Clinic in NJ?
Same-day appointments
In-network, tier-one facility
Comprehensive and compassionate pain care
Convenient locations throughout
Central & Northern NJ
24 hour turnaround on needed notes and documentation
Non-surgical, interventional care
Locations
2500 Morris Ave, Suite 220
Union, NJ 07083
925 Clifton Ave, Suite 203
Clifton, NJ 07013
10 Parsonage Road, Suite 208
Edison, NJ 08837
922 Main Street, Suite 201
Paterson, NJ 07503
185 Fairfield Ave, Suite 2A
West Caldwell, NJ 07006
870 Palisade Ave, Suite 205
Teaneck, NJ 07666
Top Rated Pain Doctors & Specialists
Practice Gallery
CALL NOW : 732-906-9600
LOCATIONS :
2500 Morris Avenue, Suite 220
Union, NJ 07083
---
922 Main Street, Suite 201
Paterson, NJ 07503
---
10 Parsonage Rd, Suite 208
Edison, NJ 08837
---
925 Clifton Ave, Suite 203
Clifton, NJ 07013
---
185 Fairfield Ave Suite 2A
West Caldwell, NJ 07006
---
870 Palisade Ave, Suite 205
Teaneck, NJ 07666