Adhesive capsulitis, more commonly known as frozen shoulder, is an inflammatory condition of the shoulder accompanied by pain, loss of function and decreased shoulder mobility known as the characteristic "frozen" feeling. It typically presents most often in females aged 40 to 60 years old.


The service, facility and staff were great. Dr Freeman knows what the hell he is doing. I was in and out of my procedure in 2 hours. The facility is better then most hospitals I've been in. I highly recommend Dr Freeman.

Jim
What happens when your shoulder "freezes?"
The joint capsule is a sleeve of connective tissue that supports and provides stability to the shoulder joint. When inflamed, the capsule constricts, causing painful tightness and limiting your range of motion. As the capsule shortens and range of motion decreases, other muscles connected to the area can shorten as well and atrophy compounding movement restrictions.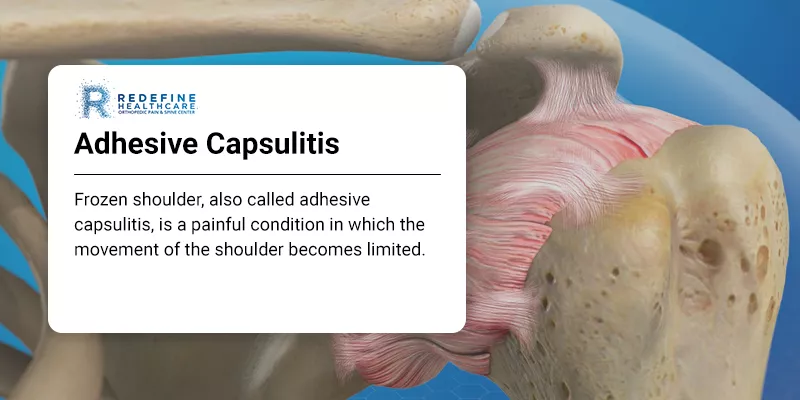 Causes
Adhesive capsulitis is often triggered by other inflammatory conditions such as bursitis, tendonitis or shoulder impingement. Other activities or conditions that put an individual at risk to the development of adhesive capsulitis includes:
Participating in repetitive overhead athletic activities like swimming, tennis, softball, or baseball.
Repetitive strain, stemming from overuse on the job.
Sudden trauma to the shoulder.
Very infrequently, frozen shoulder may develop during post surgical shoulder rehabilitation (including open and arthroscopic procedures and shoulder joint replacements) if the patient does not adhere to the rehabilitation schedule.
Patients with a history of diabetes or uncontrolled blood sugar levels may develop a special type of frozen shoulder called "Diabetic Shoulder".
Signs and Symptoms of Frozen Shoulder
Shoulder pain and muscle weakness that radiate to the upper arm.
Moderate to severe loss of shoulder motion, especially the ability to reach overhead and behind the back.
Difficulty dressing and performing activities of daily living (ADL's).
Pain when sleeping followed by discomfort and tightness upon waking.
Medicine Intervenes
The pain management and injury doctor in NJ Dr. Freeman may recommend the following listed below in addition to physical therapy.
The use of NSAIDs (Non-Steroidal Anti-Inflammatory Drugs).
Steroidal injections to reduce inflammation.
A pain management program, including medication, designed to reduce discomfort so the patient may be able perform recommended exercises.
Manipulation or passive movement of the restricted shoulder joint under anesthesia to improve motion, break up scar tissue, adhesions and restore function. Use of this treatment is rare, but occasionally is necessary, depending on the severity of the condition.
Surgery to correct underlying pathology or the cause of the frozen shoulder.
Prognosis
Under a comprehensive physical therapy rehabilitation program in our sports injury clinic in NJ, many individuals are able to limit the effects of connective tissue dysfunction and will likely see a decrease in symptoms over a period of time ranging between two weeks and six months. For patients with more advanced cases or if results are not realized after a significant time period, surgical intervention may be considered.
Our pain management centers are among the best in the region. Our doctors are affiliated with the top-rated hospitals in New Jersey including RWJ Barnabas and Morristown Medical Center. Physicians working at Redefine Healthcare are contributors to many prominent media outlets and are the best NJ injury doctors.


Dr. Ceraulo is a caring and professional dr who understands what you are going through. Works with you 100% Dr. Ceraulo I would recommend you to anyone who needs help.

Noralynn
Page Updated on May 27, 2022 by Dr. Freeman (Pain Management Specialist) of Redefine Healthcare
Dr. Eric D. Freeman is a top-rated, best-in-class pain management doctor. He is a nationally recognized pain relief specialist and is among the top pain care doctors in New Jersey and the country. He is an award-winning expert and contributor to prominent media outlets.

Dr. Eric D. Freeman has been recognized for his thoughtful, thorough, modern approach to treating chronic pain. He has been named a "top pain management doctor in New Jersey" and one of "America's Top Physicians" for advanced sports injury treatments.
Why Choose Redefine Healthcare?
Same-day
appointments
Convenient locations throughout
Central & Northern NJ
In-network,
tier-one facility
24 hour turnaround on needed
notes and documentation
Comprehensive and
compassionate pain care
Non-surgical, interventional pain care
in Edison, NJ & Union, NJ