The epidural space is the space between the lining of the spinal cord and the spinal column. The nerves leave the spinal cord and pass through the epidural space as they exit the spinal column to the body.
Spinal nerves become inflamed due to irritation from a degenerative, bulging, herniated, or damaged disc. Degenerative joint changes or contact with a bone spur may also irritate the nerve. Depending on which part of the spine the inflamed nerves are located in, you may experience pain and/or other symptoms (such as numbness or tingling) in different areas of the body.

Cervical: symptoms may include neck pain, muscle spasms, as well as pain, numbness, and tingling that travels down into the arm;
Thoracic: back pain that can run to the ribs and the chest wall;
Lumbar: symptoms may include back, hip, and buttock pain as well as pain, numbness, and tingling down into the leg.

Great group of doctors..always helped me with any question I have..

Jimmy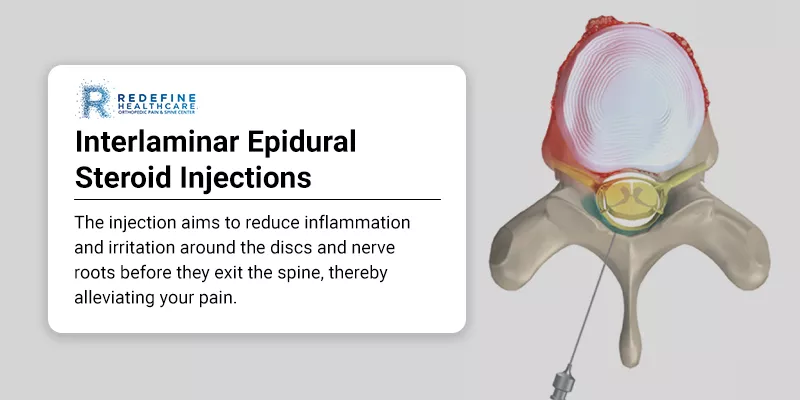 In this procedure, an anesthetic and anti-inflammatory (steroid) solution is injected into the epidural space, in which the disc and nerves are contained. The injection aims to reduce inflammation and irritation around the discs and nerve roots before they exit the spine, thereby alleviating your pain. If necessary, we can repeat the procedure regularly. It is an important part of treating conditions like herniated discs, sciatic pain, spinal stenosis, and degenerative disc disease. Our specialist can perform it in the cervical, thoracic, or lumbar areas. We perform all the procedures under fluoroscopic guidance (X-ray guidance) in an ambulatory surgical center, fluoroscopy suite, or hospital setting for correct medication placement.
Typically, the procedure takes about 30 minutes. When the numbing medication wears off, there may be an increase in discomfort for the first two to three days after your treatment. The full therapeutic effect and pain relief from an epidural injection can take up to ten days. One of the epidural injection goals is to decrease inflammation at the site of the problem and provide enough pain relief for you to continue with your rehabilitation program.

Dr. Freeman cares about his patients and the pain they have to deal with on a daily basis. A very important quality for a doctor when your a senior citizen.

DAUD
Dr. Eric D. Freeman is a top-rated, best-in-class pain management doctor. He is a nationally recognized pain relief specialist and is among the top pain care doctors in New Jersey and the country. He is an award-winning expert and contributor to prominent media outlets.
Dr. Eric D. Freeman has been recognized for his thoughtful, thorough, modern approach to treating chronic pain. He has been named a "top pain management doctor in New Jersey" and one of "America's Top Physicians" for advanced sports injury treatments.
Why Choose Redefine Healthcare?
Same-day
appointments
Convenient locations throughout
Central & Northern NJ
In-network,
tier-one facility
24 hour turnaround on needed
notes and documentation
Comprehensive and
compassionate pain care
Non-surgical, interventional pain care
in Edison, NJ & Union, NJ