Your discs are little jelly-like rings that sit between the vertebrae in your back. A damaged disc leads to several excruciating symptoms. A herniated disc, often called a slipped disc, ruptured disc, or disc herniation occurs when the fluid inside it starts leaking after an accident, injury, or years of continuous wear and tear. Whether you know when it happened or not, see herniated disc specialists at Redefine Healthcare for the first sign of back pain. Prevent further complications of a slipped disc with the proper diagnosis and treatment. Call for an appointment.


I've been Dr. Ceraulo's patient for many years now. He's done a good job at helping me manage my pain so I can avoid surgery as per my request and providing me with a better quality of life for me with my family. I would highly recommend Dr. C!

Shawn
What is a Herniated Discs?
When you lead an active lifestyle, your back often deals with a lot of stress. Whether you're skating, playing tennis, or just shopping, you put your back through an enormous amount of twisting, turning, bending, and lifting. No matter how fit you are, strenuous activity or repetitive movements can lead to herniated discs, one of the most common causes of back, neck, and leg pain.
Discs are the cushions between each of your vertebrae: the individual bones that make up your spine. When the soft inside of the disc pushes out through a tear in the tough outer shell, it triggers intense pain, weakness, or numbness. For some people, this pain is debilitating. When you have persistent back or neck pain or stiffness, it's time to consult the pain management specialists at Redefine Healthcare to receive the best treatment for herniated discs or whatever's ailing you.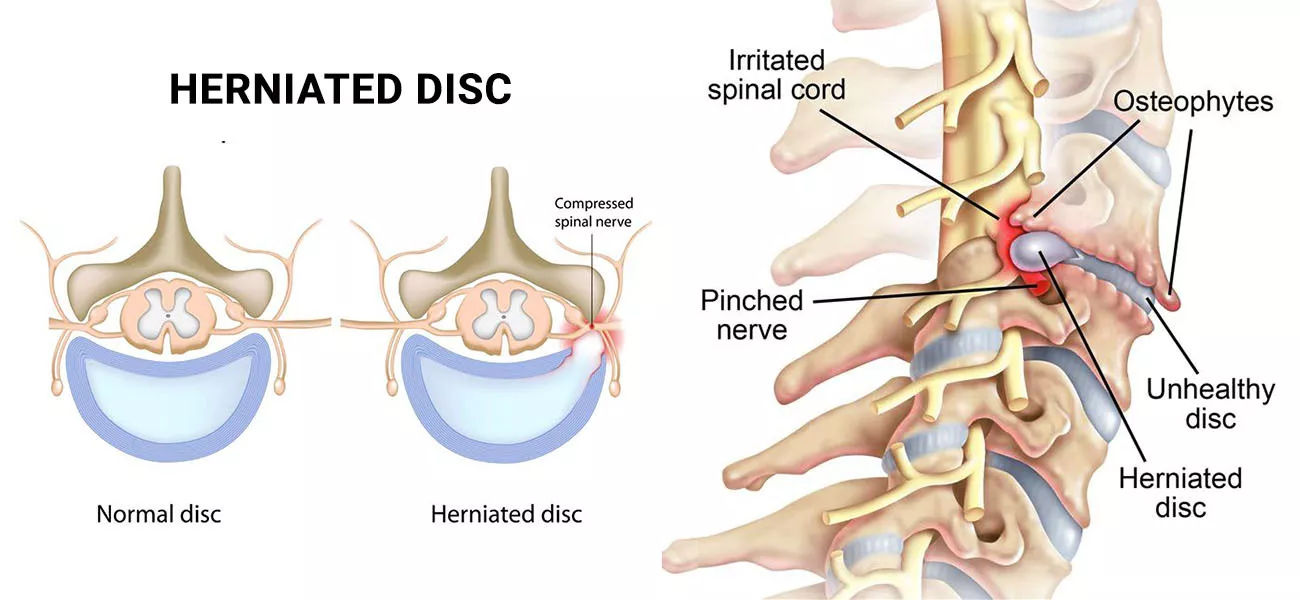 Herniated Disc Symptoms
The lower back is the most commonly affected area for herniated discs.
Lower back pain
is one of the most common medical complaints in the country.
If your ruptured disc is in your lower back, you may experience the following symptoms:
Pain, which may concentrate in your lower back or radiate to your buttocks, legs, and feet;
General muscle weakness;
Numbness or tingling in your hands or feet.
A slipped disc in the neck can produce similar symptoms, including:
You may find that your pain intensifies or spreads if you move in specific ways. Remaining in one position for too long can also trigger pain. It's possible to have a herniated disc without experiencing symptoms, in which case you won't discover your condition until you have a regularly scheduled annual exam.
What Causes Herniated Discs?
When a disc herniates or ruptures, it puts pressure on nearby nerves, often resulting in a
pinched nerve
. You may not be able to identify a particular action that triggered your back or neck pain, but you may remember when the pain began. Perhaps you used your back muscles to lift something heavy or turned awkwardly while participating in an athletic activity.
When you run, jump, dance, or participate in contact sports, you put yourself at risk of a back injury, a pulled muscle, or a herniated disc. You can hurt your back if your job is physically demanding and you do a lot of lifting, bending, pushing, or pulling. Excess body weight can strain your lower back. The aging process can contribute to degenerative joint disease as you get older.

Herniated Disc Diagnosis
Your herniated disc specialists will perform a thorough physical examination focusing on your spine and extremities and discuss your medical history. A doctor may also do a neurological exam to test your arms and legs' movement, strength, and reflexes. You may also require medical imaging like X-Rays, MRIs, and CAT Scans for the specialist to confirm the diagnosis.
Herniated Disc Treatment
Diagnosing a slipped disc involves a thorough physical and neurological exam to check muscle strength, reflexes, and the ability to feel light touch. To rule out other possible causes of lower back pain, you may need tests like an x-ray, MRI, or CT scan.
Initial herniated disc treatment is non-surgical and conservative. If these treatments are ineffective, you may need minimally invasive arthroscopic surgery. Your doctor may recommend the following treatments, in order of least invasive to most invasive:
Non-steroidal anti-inflammatory drugs. Ibuprofen and naproxen are examples of these over-the-counter medicines that can relieve inflammation and pain, as well as improve your mobility.
Physical therapy. With the help of a physical therapist, you can learn exercises that reduce your pain while strengthening supporting muscles, so you don't have to rely on your back as much.
Acupuncture. This complementary treatment involves using needles to stimulate specific points near the herniated disc. This stimulation promotes healing by increasing blood flow and encourages the body to release natural pain relievers.
Nerve root block. Injecting a mixture of local anesthetic and steroids around the affected nerve can help relieve pain and reduce swelling.
Prescription medications. If your pain isn't relieved with over-the-counter medication, your doctor may prescribe muscle relaxants or narcotic painkillers on a short-term basis.
Cortisone injections. An injection of corticosteroid reduces inflammation and fights pain.
Surgery. You may need surgery to repair structural issues if symptoms don't improve with less invasive forms of treatment.
Herniated Disc Specialists in New Jersey
At Redefine Healthcare, our herniated disc doctors have extensive experience in diagnosing and relieving herniated disc pain. Establishing a precise diagnosis is crucial to treating your pain appropriately. We utilize in-office state-of-the-art diagnostic technology to get to the root cause of your pain. At each of our Union, Paterson, Edison, West Caldwell, Freehold, Rutherford, and Bayonne, NJ offices, we exclusively utilize the most up-to-date treatment options and techniques. Our medical team will go above and beyond to address your pain management needs and provide the best care possible.
Contact Redefine Healthcare for expert herniated disc treatment in northern New Jersey. Make an appointment to get a precise diagnosis so that you can begin appropriate treatment and return to your daily routines. The top-rated pain management physicians specialize in back pain diagnosis and treatment.


I absolutely love going into this office. From the moment you walk in until the moment you walk out, everyone is extremely caring and helpful. Dr. Freeman and his staff are attentive to their patients and provide excellent care to each individual. They treat each patient with kindness and compassion. Thank-you to all who work in this office! You guys are all the best!!

Alexia
Dr. Eric D. Freeman is a top-rated, best-in-class pain management doctor. He is a nationally recognized pain relief specialist and is among the top pain care doctors in New Jersey and the country. He is an award-winning expert and contributor to prominent media outlets.
Dr. Eric D. Freeman has been recognized for his thoughtful, thorough, modern approach to treating chronic pain. He has been named a "top pain management doctor in New Jersey" and one of "America's Top Physicians" for advanced sports injury treatments.
Why Choose Redefine Healthcare?
Same-day
appointments
Convenient locations throughout
Central & Northern NJ
In-network,
tier-one facility
24 hour turnaround on needed
notes and documentation
Comprehensive and
compassionate pain care
Non-surgical, interventional pain care
in Edison, NJ & Union, NJ