Last updated: Oct 6, 2021
Sprained Knee
A sprained knee doesn't sound like a severe injury, but it can be if you've torn ligaments. And if you continue to act as if you haven't hurt your knee at all, you can damage your knee more severely. Call the joint specialists at Redefine to receive treatment for any grade knee sprainYouHealthcare in northeastern New Jersey. Meet with a doctor who can determine if you've sprained your knee so that you can get the treatment you need to get back on your feet.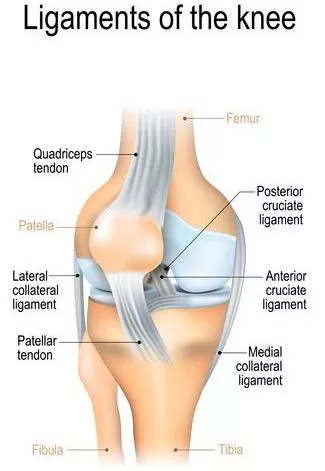 Despite how strong and stable your knees normally are, you can still sprain them surprisingly easily. As maybe the hardest-working joint in the body, your knees rely on a complex network of ligaments, bones, cartilage, muscles, and tendons. A knee sprain occurs when you stretch or tear one of the ligaments. Moreover, if you suffer a knee sprain, you may have injured another part of the knee as well.
If you enjoy an active lifestyle, be mindful of how your knees twist, turn, and bend. Each knee has four ligaments that keep it stable and bending the correct way. If any of these ligaments are injured, it stresses the others, which you can then injure by overcompensating.
The four ligaments in your knee include:
Anterior cruciate ligament (ACL), which runs inside the knee joint in the front
Posterior cruciate ligament (PCL), which runs inside your knee in the back, crisscrossing the ACL to keep your leg bones in place
Medial collateral ligament (MCL), which stabilizes the knee along the inner side of your leg
Lateral collateral ligament (LCL),which supports the outer side of the knee joint and along with the MCL, keep your knee from bending sideways
Causes for Your Sprained Knees
Contact sports cause many knee sprains. You can sprain your knee from a sudden impact, as in a car accident. Knee sprains also result from sudden twisting, stretching the joint too far, or lifting too heavy objects. If your knee is already weak, you can sprain it by doing something simple, such as stepping off a stair or a curb.
If you hurt your knee in New Jersey, get to a joint specialist like the talented doctors at Redefine Healthcare. These pain management specialists can determine which ligament is affected, so you get targeted treatment. Each knee ligament can sprain due to a slightly different action:
ACL injuries often come from trauma to the outside of your knee or lower leg, but you can end up with an ACL sprain from hyperextension (straightening your leg too forcefully), a sudden stop, or a twist, pivot, or change in direction.
PCL injuries result from a direct impact to the front of your knee.
MCL injuries are caused by a severe knee twist, with your lower leg going outward, away from your upper leg
LCL injuries often happen as a result of a blow to the inside of your knee.
Symptoms of a Knee Sprain
You usually know right away when you hurt your knee. But while your symptoms reflect the ligament you've damaged, there are some common symptoms beyond the knee pain, including:
Swelling around the knee joint
Worsening pain when kneeling
Possible buckling affect
Instability
Tenderness
Difficulty moving the knee
Symptoms of common knee injuries vary, depending on the specific ligament that you've stretched or injured in some other way. We classify knee sprains according to their degree:
Grade I. This mild knee sprain happens when you stretch a ligament.
Grade II. This moderate sprain usually translates to a partially torn ligament.
Grade III. This is a severe sprain, which means you've completely torn or separated a ligament.
Who's at Risk of Having a Knee Sprain
While anyone can sprain a knee at any age, the weekend hiker, Thursday night kickball player, and the DIYer around the house are more at risk. Competitive athletes have the highest risk of knee sprains. Knee sprains are the most common injury in U.S. high schools.
More aggressive sports, of course, carry higher risks. Basketball, football, soccer, rugby, wrestling, gymnastics, hockey, or skiing force you to twist and turn, which puts your knees in danger. Golf, yoga, running a 5K, or mountain biking can cause a knee injury. But you can sprain a knee while gardening, walking upstairs, or playing with the children.
Mild Sprained Knee Treatment
To receive treatment for any grade knee sprain, you need medical help at Redefine Healthcare in northern New Jersey. Your pain management specialist examines your knee to check for other, more severe causes, such as patellofemoral pain syndrome or patellar tendonitis, especially if your pain centers around the kneecap.
Once you're diagnosed with a sprain, expect to spend several weeks following the RICE rule: rest, ice, compression, and elevation, along with some over-the-counter painkillers like ibuprofen. Up to 90 percent of people who've suffered Grade I or Grade II sprains make a full recovery after proper treatment and physical therapy. Still, a bad sprain may need two to four weeks to heal fully.
Follow Your Knee Sprain Treatment Plan
If you've suffered a grade III knee sprain, where you've injured, stretched, or torn multiple ligaments, your New Jersey doctor must determine the most appropriate knee sprain treatment. You may need a camera-guided, minimally invasive, arthroscopic surgical procedure to reconstruct the torn ligament. Surgery is always the last option, however.
No matter how badly you've sprained your knee, once your knee pain begins to fade, you're given a rehabilitation program. Physical therapy strengthens the muscles in and around your knee joint. The stretching and exercises also rebuild your flexibility. Don't wait until your knee pain gets worse; contact the pain experts at Redefine Healthcare today!
Dr. Eric D. Freeman, a highly regarded pain specialist in New Jersey, is board-certified and fellowship-trained in Interventional Spine and Pain Management and Physical Medicine and Rehabilitation. He is an expert in minimally invasive spinal procedures and non-surgical orthopedic care.
Dr. Freeman is a member of the American Academy of Physical Medicine and Rehabilitation and the Interventional Pain Practice Society. In addition, he serves as the Immediate Past President of the New Jersey Society of Interventional Pain Physicians. Dr. Freeman is well-known in the field of pain management as a leading pain management doctor, having been named one of "America's Top Physicians."
Why Choose Redefine Healthcare?
Same-day appointments
In-network, tier-one facility
Comprehensive and compassionate pain care
Convenient locations throughout
Central & Northern NJ
24 hour turnaround on needed notes and documentation
Non-surgical, interventional pain care in Edison, NJ & Union, NJ
Our Locations in Central and Northern NJ
2500 Morris Ave, Suite 220
Union, NJ 07083
10 Parsonage Road, Suite 208
Edison, NJ 08837
922 Main Street, Suite 201
Paterson, NJ 07503
185 Fairfield Ave, Suite 2A
West Caldwell, NJ 07006
197 Cedar Lane
Teaneck, NJ 07666
200 Perrine Rd., Suite 220
Old Bridge, NJ 08857
350 Forsgate Dr.,
Monroe Township, NJ 08831
11 West 25th Street,
Bayonne, NJ 07002