Compression Fractures
Even the tiniest split in one of the vertebrae in your spine can lead to excruciating pain. Sometimes, you may not even realize that you've seriously damaged your back. Rather than trying to diagnose your back pain yourself, rely on experts who deal with back pain every day. At Redefine Healthcare in northern New Jersey, you receive a firm diagnosis. If you have a compression fracture, you'll receive the appropriate treatment as quickly as possible. Call today for an appointment.


The bedside manner and professionalism of the staff at Redefine is beyond exceptional. I have always been able to talk to the doctors and staff and get my spinal issues under control, allowing me to function as I once did prior to my injury. Coming here is like dealing with trusted family. Would not consider changing doctors!

Jesse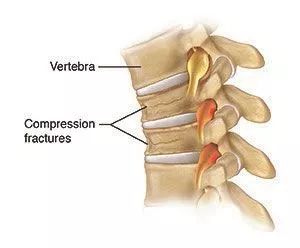 A compression fracture in your back occurs when one or more of the spinal vertebrae collapse. Vertebrae are the chain of bones in your spine that protects the spinal cord, allows for movement, and supports your weight. When that chain is damaged, you experience severe pain that requires the expertise of a pain management specialist who understands the complexities back pain.
The most common location for a compression fracture is on the lower part of your thoracic spine, causing middle back pain.
These types of fractures can cause severe back pain, constriction of spinal blood flow, and a reduction in your height. Extensive imaging tests can help your doctor at Redefine Healthcare pinpoint the source of your discomfort so that you receive targeted compression fracture treatment.
Causes of Compression Fractures
The majority of vertebral compression fractures result from bone structures weakened by osteoporosis. Other common causes include tumors, car accidents, and even both high- and low-impact athletics. A fall during a basketball game or an excessive bend during a yoga session can cause vertebral compression fractures.
As counterintuitive as it may seem, certain yoga positions create excessive torsion, flexion, and stress on your spine.
Severe osteoporosis results in such weak and brittle bones that something as innocuous as stepping out of a shower or even sneezing can cause a compression fracture. In moderate cases, compression fractures require more significant force, such as falling or lifting a heavy object.
Compression Fracture Risks
Vertebral compression fractures afflict more than 750,000 osteoporosis patients each year. They are the most common form of bone fracture. Osteoporosis patients who've suffered one compression fracture are 500 percent more likely to sustain another one.
While compression fractures can occur at any age, the risk rises as you get older.
Although about one-quarter of all menopausal women have endured a compression fracture, the number increases to four in 10 for women over 80. While far more frequent in women, men also become more susceptible to compression fractures as they age.
For patients younger than 55 who haven't had a traumatic spinal injury, metastatic tumors might cause a compression fracture. The spine is fertile ground for cancer to grow and spread, and it weakens the vertebrae to the point of collapse in the process.
Compression Fracture Symptoms
When compression fractures appear suddenly after an accident, sports injury, or sudden inappropriate movement, they tend to exhibit symptoms that include:
Immediate severe stabbing pain that may take weeks to months to dissipate
Middle or lower back pain
The sides and front of the spine are more sensitive than the back of the spine
Compression fractures due to osteoporosis tend to develop over time and have symptoms such as:
Back pain that increases with activity and decreases with bed rest
A decrease in height
Reduced spinal mobility
Kyphosis, is characterized by a hunched-over posture with accompanying symptoms such as:
Tingling
Numbness
Trouble walking
Lack of bowel and bladder control
Eventual deformity and disability
Compression Fracture Treatment
Once diagnosed by your northern New Jersey physician, the treatment for compression fractures depends on the cause of the damage. If osteoporosis is responsible, your doctor begins treating it with calcium and vitamin D supplements to improve bone density.
If the compression fracture did not injure the spinal cord, basic treatments might include:
Activity reduction, but not complete inactivity
Over-the-counter pain medications, such as non-steroidal anti-inflammatory drugs or acetaminophen
Muscle relaxants
Short-term opioid medication
Back braces, used sparingly to limit spinal movement enough to alleviate pain
Physical therapy to increase strength and mobility
Calcitonin for relieving bone pain
If these treatments for compression fractures don't stop your pain, surgical procedures are available. Your pain management specialist may recommend:
Vertebroplasty. Your doctor injects quick-drying cement into your broken vertebrae. The additional strength and support you get from the treatment reduce the pain.
Balloon kyphoplasty. Similar to vertebroplasty, the procedure first inflates the space between the vertebrae with a balloon. Once the spine returns to its original length, your doctor removes the balloon and injects the medical-grade cement to provide stability and reduce the pressure on the nerves exiting your spine.
Regardless of the cause of your injury, the doctors at Redefine Healthcare can treat your compression fracture with the least invasive and most cutting-edge techniques available. Contact the pain management experts today for a definitive diagnosis and the best compression fracture treatment for your specific needs.


Great process, great result!

Neil
Dr. Eric D. Freeman is a top-rated, best-in-class pain management doctor. He is a nationally recognized pain relief specialist and is among the top pain care doctors in New Jersey and the country. He is an award-winning expert and contributor to prominent media outlets.
Dr. Eric D. Freeman has been recognized for his thoughtful, thorough, modern approach to treating chronic pain. He has been named a "top pain management doctor in New Jersey" and one of "America's Top Physicians" for advanced sports injury treatments.
Why Choose Redefine Healthcare?
Same-day
appointments
Convenient locations throughout
Central & Northern NJ
In-network,
tier-one facility
24 hour turnaround on needed
notes and documentation
Comprehensive and
compassionate pain care
Non-surgical, interventional pain care
in Edison, NJ & Union, NJ