Because there are so many potential causes of chronic lower back pain, it is best not to try self-diagnosis. Even if you suspect you pulled your back last weekend while helping a friend move or picking up your toddler, you can't be sure what's causing the sharp pain in your lower back. Redefine Healthcare physician Eric D. Freeman, a top-rated best-in-class NJ pain specialist, routinely diagnoses and treats lower back pain in his Union, West Caldwell, Paterson and Bayonne medical practices using non-surgical methods.


I have been a patient of the practice for the last 5 years. As then practice has grown so has their level of excellence. Everyone i have encountered on the team is always professional, courteous and always understand my medical/pain related needs. Dr. Eric Freeman and PA Evan Jay are a great team. They always treat me/their patients with the dignity, professionalism, and respect one should expect given the nature of their business.

Robert
Anatomical Structure of the Back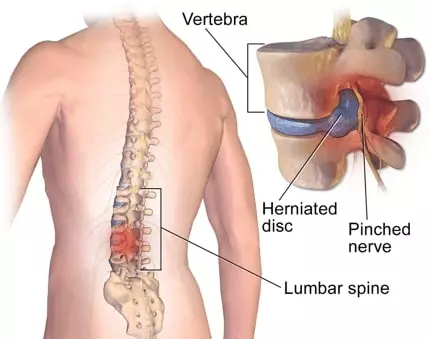 The five vertebrae that make up the lumbar, or lower, area of your back (L1 to L5) are usually the source of low back pain. The majority of your upper body's weight is supported by this area. Intervertebral discs, which are round, rubbery pads, fill the spaces between these vertebrae. They handle the stress and harsh movements of your entire spinal column. There are also facet joints located between and behind adjacent vertebrae and responsible for stabilizing your spine. Your back muscles are connected to your spinal column via tendons, and vertebrae are held in place by ligaments. Lastly, there are 31 pairs of nerves that originate from your spinal cord and control your body's sensation and movement by relaying signals to and from the brain.
The intricate anatomical structure of your lower back can be challenged due to stress and strain associated with age. Any changes to the discs, facet joints, and ligaments around your vertebrae can result in painful conditions.
Lower back pain is one of the most common health problems in the United States today. More than 80% of adults will experience lower back pain at some point in their lives. While the level of discomfort caused by lower back pain varies greatly, the Centers for Disease Control and Prevention (CDC) estimates that severe low back pain forces between 6% and 10% of workers to change professions or quit working altogether.
You don't have to suffer from lower back pain right now when Redefine Healthcare's pain management clinic offers so many options for sharp or stabbing lower back pain relief in northern New Jersey.
Early diagnosis and treatment allow you to overcome this potentially debilitating sharp pain in the lower back. So, in order to continue working and playing, as usual, seek an accurate diagnosis and effective treatment.
Back pain, like most pain, is divided into two separate categories:
Acute. The most common type of lower back pain. It occurs suddenly and lasts no more than three weeks. It is usually caused by an injury to your back.
Chronic.Less common type, characterized by pain that lasts more than three months. It's often caused by an underlying disease, an untreated spinal condition, or years of wear and tear.
Lower Back Pain Symptoms
Typical lower back pain symptoms include:
Aching muscles
Sharp, stabbing, or burning pain
Pain that stretches down your leg
Pain that increases with activity or reduces while laying down
These symptoms may go away on their own within a few weeks, or they may worsen if you do not receive proper care. Seek emergency medical attention if you have any of the following symptoms:
Lower back pain after the age of 50
Pain that doesn't improve with rest
Pain that occurs together with bowel or bladder problems
A fever
Leg pain that extends around and below the knee or causes either a tingling or numbing sensation
Unexplained weight loss
A previous bout of cancer
Previous or current use of steroids
Osteoporosis
Substance abuse
What Causes Low Back Pain?
The causes of your
constant lower back pain
are often determined by your symptoms. Among the most common are:
Sacroiliitis. This condition is caused by inflammation of your sacroiliac joints, which connect your lower spine and pelvis. Although it mainly results in pain in the buttocks and lower back, it can also lead to pain in the legs. Long periods of standing or stair climbing exacerbate the symptoms.
Arthritis. Arthritis of the spine is called spinal stenosis. It narrows the space available to your spinal cord, causing irritation and discomfort. Although osteoarthritis is typically associated with aging, it can start causing painful symptoms as early as age 40.
Osteoporosis. A condition in which your bones become brittle and your spinal vertebrae fracture. Osteoporosis is most prevalent in older adults, although it can also be caused by a lack of calcium, vitamin D, and exercise.
Soft tissue strain. Repetitive activity or sudden overexertion can cause muscle or ligament strain. This condition is commonly described as a pulled back, and it is the most common cause of isolated soreness, such as sharp stabbing pain in the lower left side of the back or lower right back pain.
Herniated discs. Your spinal vertebrae are cushioned by discs with a tough exterior and a soft interior. A herniation occurs when the hard covering ruptures, allowing soft material to ooze out and potentially pinch a nerve.
Sciatica. When a herniated disc pinches the sciatic nerve, the pain spreads from the lower back to the buttocks and down the back of your leg. The sensation can range from numbness to extreme pain.
Infection. Lower left or lower right back pain may be caused by a kidney infection, appendicitis, gynecological issues, or even kidney stones.
How Is Low Back Pain Diagnosed?
Your doctor can establish a specific diagnosis for the underlying cause of your lower back pain based on history, thorough physical examination, and neurologic tests. Imaging studies may be ordered by your doctor only if there is a risk of serious pathologies, such as spinal stenosis or tumors. Diagnostic imaging tests required for a more detailed investigation of the source of your pain include:
X-ray imaging
Computerized tomography (CT)/Myelogram
Magnetic resonance imaging (MRI)
If you have severe or worsening nerve damage or a serious underlying condition such as cancer or spinal infection, you may require an imaging test right away. Sudden weight loss, fever, bladder or bowel incontinence, and loss of feeling or strength in your legs are other red flag symptoms that may necessitate imaging studies for lower back pain.
Lower Back Pain Treatment
If you're one of the many Americans who suffer from this condition, you're probably interested in learning how to relieve lower back pain. Ask your pain specialist, not your friends, how to get rid of sharp lower back pain. Trying what works for others can be disastrous if you don't have a firm diagnosis, and most do-it-yourself treatments are ineffective — or, at worst, counterproductive.
We offer a range of lower back pain treatment options, including conservative therapy and surgery. Regardless of what method we choose, effectively alleviating your low back pain and helping you retain normal back function is our main priority. Common non-operative treatment options include:
Physical therapy
Weight reduction
Acupuncture
Epidural steroid injections
Nonsteroidal anti-inflammatory medications
Massage therapy
Lumbar bracing
If conservative treatment for low back pain fails to provide relief, or if neurologic symptoms persist or worsen, your New Jersey lower back pain specialist doctor may advise surgery. The following are some of the most common surgeries performed by the surgeons at Redefine Healthcare:
Lumbar laminectomy
Lumbar microdiscectomy
Spinal fusion
Vertebroplasty and kyphoplasty
Spinal cord stimulator surgery
Recovery after Low Back Surgery
The length of time a patient spends recovering from surgery is often determined by his physical condition and age. Your surgeon will advise you to avoid lifting anything heavier than 10 pounds and engaging in strenuous activities or sports for four to twelve weeks following surgery to let the spine and surrounding tissues heal. You may also be advised to use a back brace, special beds, shower stools, or supportive pillows to make the healing process easier. Physical therapy is often recommended to help people regain their strength, improve their range of motion, and promote healing. Painkillers and muscle relaxants are also usually prescribed to patients.

Prevention
Back pain typically goes away within a few days or weeks. If the pain lasts more than three months, it is considered chronic and needs to be evaluated by an experienced spine specialist. You can decrease your risk of experiencing low back pain by putting less strain on your back. The following are the guidelines for reducing stress on your back:
Support your back when lifting
Focus on good posture
Stay at a healthy weight
Strengthen your back
Get enough calcium and vitamin D
Quit smoking
Relax and reduce stress
While stopping time or avoiding aging is impossible, you can successfully manage or even avoid back pain by making certain lifestyle changes. A healthy lifestyle may also make you less likely to sustain an injury as a result of an accident.
Contact the best pain management doctors in New Jersey at Redefine Healthcare for a comprehensive, personalized exam and professional recommendations if you experience a dull ache or sharp pain in the lower back. With a diagnosis from your New Jersey pain relief doctor, you get a personalized treatment plan to address even the most extreme lower back pain conditions.
Read more: Sharp Stabbing Pain in the Lower Left Side of the Back


Dr. Freeman is the best doctor. He gets to the root of your problems and has treated my spinal issues for years When he does a procedure he always knows the right areas to hit to relieve your pain. I cannot say enough good things about De. Freeman and his group of professionals. I highly recommend Redefine Healthcare. They are an A+++ group

Barbara
Dr. Eric D. Freeman is a top-rated, best-in-class pain management doctor. He is a nationally recognized pain relief specialist and is among the top pain care doctors in New Jersey and the country. He is an award-winning expert and contributor to prominent media outlets.
Dr. Eric D. Freeman has been recognized for his thoughtful, thorough, modern approach to treating chronic pain. He has been named a "top pain management doctor in New Jersey" and one of "America's Top Physicians" for advanced sports injury treatments.
Why Choose Redefine Healthcare?
Same-day
appointments
Convenient locations throughout
Central & Northern NJ
In-network,
tier-one facility
24 hour turnaround on needed
notes and documentation
Comprehensive and
compassionate pain care
Non-surgical, interventional pain care
in Edison, NJ & Union, NJ