Last updated: Oct 6, 2021
Lower Back Pain
There are so many possible reasons you have lower back pain that it's best not to try self-diagnosis. Even if you believe you pulled your back helping a friend move last weekend or while picking up your toddler, you can't be sure what's causing the sharp pain in the lower back. Instead, let an experienced NJ pain management doctor take a look and do a few imaging tests. With the proper guidance, your recovery will go smoothly with no lasting side effects. Call today for an appointment.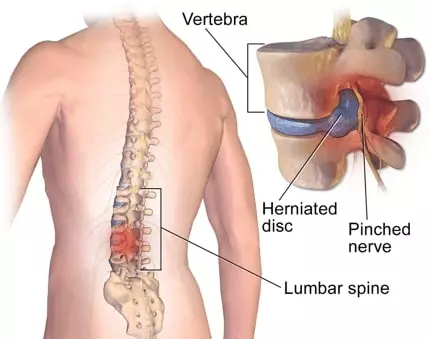 Lower back pain is one of the most common ailments in America today. More than 80 percent of adults experience lower back pain at some point in their lives. If you're experiencing back pain right now, you don't have to suffer when you have so many options for lower back pain relief in northern New Jersey at Redefine Healthcare's pain management clinic.
While the level of discomfort from lower back pain varies widely, the Centers for Disease Control and Prevention (CDC) estimates that severe low back pain forces between six and 10 percent of workers to either change professions or stop working altogether.
Early diagnosis and treatment enable you to overcome this potentially debilitating sharp pain in the lower back. So seek an accurate diagnosis and effective treatment to continue working and playing as you've done before.
Back pain, like most pain, is divided into two separate categories:
Acute. The most common type of lower back pain. It arrives suddenly and lasts no longer than three weeks. It usually results from an injury to your back.
Chronic. Less common type, characterized by pain that lasts longer than three months. It's often related to an underlying disease, an untreated spinal condition, or years of persistent wear and tear.
Lower Back Pain Symptoms
Typical lower back pain symptoms include:
Aching muscles
Sharp, stabbing or burning pain
Pain that stretches down your leg, called sciatica
Pain that increases with activity or reduces while laying down
These symptoms may disappear on their own within a few weeks or worsen if you don't get the proper care. Seek immediate medical treatment if you experience:
Lower back pain after the age of 50
Pain doesn't improve with rest
Pain that occurs together with bowel or bladder problems
A fever
Leg pain that extends around and below the knee or causes either a tingling or numbing sensation
Unexplained weight loss
A previous bout of cancer
Previous or current use of steroids
Osteoporosis
Substance abuse
The Many Causes of Lower Back Pain
Your symptoms can often determine the causes of lower back pain. Some of the most common include:
Sacroiliitis. This condition is an inflammation of your sacroiliac joints, which form the connection between your lower spine and pelvis. Although it mainly leads to pain in your buttocks and lower back, the pain can extend down through your legs. Long periods of standing or stair climbing tend to increase the soreness.
Arthritis. Arthritis of the spine is called spinal stenosis. It narrows the space for your spinal cord, causing irritation and discomfort. Although usually associated with aging, osteoarthritis can start causing painful symptoms as early as age 40.
Osteoporosis. A condition that causes your bones to become more brittle and the spinal vertebrae to fracture. Osteoporosis typically occurs in older adults, but it's also due to a lack of calcium, vitamin D, and exercise.
Soft tissue strain. Repetitive activity or sudden overexertion can strain your muscles or ligaments. Most people describe this condition as a pulled back, and it's the most common source of isolated soreness, such as sharp stabbing pain in the lower left side of the back or lower right back pain.
Herniated discs. Discs with a tough exterior and a soft interior cushion your spinal vertebrae. A herniation occurs when the hard covering ruptures, allowing the soft material to ooze out, which can pinch a nerve. This problem often leads to sciatica.
Sciatica. When a herniated disc pinches the sciatic nerve, the pain begins in the lower back and stretches through the buttocks and down the back of your leg. The sensation can range from numbness to severe pain.
Infection. A kidney infection, appendicitis, gynecological issues, or even kidney stones may be the source of lower left back pain or lower right back pain.
Lower Back Pain Treatment
If you're one of the many Americans who suffer from this condition, you want to know how to relieve lower back pain. Ask your New Jersey pain specialist, not your friends, how to get rid of sharp lower back pain. Trying what works for others can be disastrous for you if you don't have a firm diagnosis and most do-it-yourself treatments are, at best, ineffective — or, at worst, counterproductive.
Contact the best pain management doctors in New Jersey at Redefine Healthcare for a comprehensive, personalized exam and professional recommendations designed with your specific needs in mind. With a diagnosis from your New Jersey pain relief doctor, you get a personalized treatment program.
Get access to:
Pain medications, including corticosteroid injections
Cutting-edge procedures, such as a spinal cord stimulator if needed
Pain management techniques, like physical therapy
Even minimally invasive surgical techniques
Dr. Eric D. Freeman is a top-rated, best-in-class pain management doctor. He is a nationally recognized pain relief specialist and is among the top pain care doctors in New Jersey and the country. He is an award-winning expert and contributor to prominent media outlets.
Dr. Eric D. Freeman has been recognized for his thoughtful, thorough, modern approach to treating chronic pain. He has been named a "top pain management doctor in New Jersey" and one of "America's Top Physicians" for advanced sports injury treatments.
Why Choose Redefine Healthcare?
Same-day appointments
In-network, tier-one facility
Comprehensive and compassionate pain care
Convenient locations throughout
Central & Northern NJ
24 hour turnaround on needed notes and documentation
Non-surgical, interventional pain care in Edison, NJ & Union, NJ
Our Locations in Central and Northern NJ
2500 Morris Ave, Suite 220
Union, NJ 07083
10 Parsonage Road, Suite 208
Edison, NJ 08837
922 Main Street, Suite 201
Paterson, NJ 07503
185 Fairfield Ave, Suite 2A
West Caldwell, NJ 07006
197 Cedar Lane
Teaneck, NJ 07666
200 Perrine Rd., Suite 220
Old Bridge, NJ 08857
350 Forsgate Dr.,
Monroe Township, NJ 08831
11 West 25th Street,
Bayonne, NJ 07002