That insufferable twitching in your neck may be a signal that you need medical help to find the source of the spasms and finally get some relief. Muscle spasms usually respond well to lifestyle changes, but only when prescribed by an experienced neck doctor who knows what to look for and how to treat your neck issues. Redefine Healthcare has four convenient locations for new patients with muscle spasms in the neck. Call for an appointment.

Have been under the care of Dr Freeman when I started and now under Dr. Cerrelo. Both doctors have only my best interest and quality of life as their main focus. I have numerous herniated disc and other health issues that have tortured me daily. Dr. Carrillo has me on minimum medication and to a point where I can enjoy each day. Highly recommend trying them if at wits end.

Peter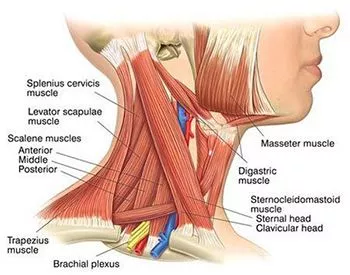 When a muscle becomes tight or tired, it may spasm. Because your neck is involved in so many activities, muscle spasms in the neck potentially hinder exercising, driving, lifting, and even working at a desk.
Have it checked out at Redefine Healthcare in northern New Jersey. It's a pain management clinic where specialists find the cause of the spasms and begin effective treatment.
Your neck is one of the most unprotected parts of your body and is vital to everyday activities.
Neck muscle spasms may result from a muscle trying to protect itself from overuse, strain, or fatigue. Spinal instability or abnormal nerve pathways may also contribute. Although doctors previously believed that dehydration caused an electrolyte imbalance and contributed to muscle spasms, evidence hasn't supported that theory.
Symptoms of Neck Muscle Spasms
Neck spasms usually occur suddenly. Occasionally, they may develop gradually. Regardless, symptoms remain the same and include:
A twitching feeling as the muscle continuously contracts and relaxes in a quick fashion
Neck pain that's constant or throbbing — and may range from dull and bothersome to sharp and debilitating
A burning sensation that often travels down one arm
Cramping from when the muscle contracts but can't relax
A knot of sore or painful tissue that develops
Decreased range of motion
A stiff neck that limits your ability to turn your head in one or more directions
Headaches that result from the spasms, referred pain, or the continued stress of discomfort
You may experience varying levels of neck muscle spasm intensity. If a spasm attack develops into strong contractions that pull your head to one side, you may also experience dizziness, balance concerns, vision changes, blurry vision, and fatigue from the pain of continuous muscles contractions. Check in at Redefine Healthcare to ensure your neck muscle spasms don't become chronic.
Causes of Muscle Spasms in the Neck
The underlying reasons for neck muscle spasms can be as simple as strain or fatigue. But they can also be much more complex. Diagnosing the correct cause of your spasms allows treatment to proceed.
Some potential causes include:
Overexertion or muscle fatigue.Many athletes who hit balls with bats or rackets do weightlifting. Others experience bruising hits. All are at risk for developing muscle fatigue leading to spasms.
An injury or accident. When a muscle stretches farther than it usually does, or you injure a nearby ligament, it may result in spasms as the muscle tries to protect itself or the adjoining ligament.
Mechanical dysfunction. Any dysfunction of your neck and shoulder mechanics limits the joint, muscles, ligaments, and supportive tissue from moving through the normal range of motion. These dysfunctions may include injury, poor posture, bone spurs, or congenital abnormalities.
Arthritis . In the facet joints becomes a common issue due to aging. The protective cartilage wears away, and the adjoining vertebrae rub and grind against each other, causing inflammation, nerve damage, and neck muscle spasms.
Nerve damage. The peripheral nerves that branch from the spine to other parts of your body can malfunction or be injured. Also called neuropathy, these signals may fire too frequently or not often enough, leading to muscle spasms, reflex and sensory frustrations, and motor function issues.
Herniated discs . Discs in your neck act the same as the discs in your spine to provide cushioning between your vertebrae. Overuse, injury, aging, or malformations of the spine may cause the discs to flatten and leak with the accompanying inflammation, triggering uncomfortable spasms.
Myofascial neck pain . This condition results from a pain syndrome that affects the muscles and connective tissue or fascia. Tightness, pain, and spasms commonly occur.
Text neck. Spending an excessive amount of time bent over a phone or another electronic device places your neck in a strained position for extended periods. Besides tight and sore muscles, your neck may develop spasms to protect fatigued tissue.
Cervical dystonia. This rare and painful illness is characterized by your neck muscles contracting involuntarily, causing your head to twist or turn to one side. It can strike anyone at any age, however, it is more common after the age of 40. Though cervical dystonia has no known culprit, it is thought to be hereditary. Other factors, such as brain damage, are also thought to be involved.
Neck Muscle Spasm Treatment
The good news is that most neck muscle spasms resolve themselves over a few days or weeks. Self-care practices help quicken relief as well as prevent further spasms and discomfort.
Your doctor may recommend home treatments, such as:
Heat. If a muscle has become contracted due to a spasm, applying heat to the affected area may help the muscle relax and regain its usual range of motion.
Ice. In addition to being an effective way to relieve pain, icing also works for neck muscle spasms. This approach is usually suggested during the first two to three days after your symptoms occur.
Over-the-counter medication. Most over-the-counter medications for neck muscle spasms and body pain relief are equally applicable. If you have any aspirin, Ibuprofen, naproxen, or acetaminophen in your medicine cabinet, you may want to try using one of them.
Massage therapy. Getting a massage from a qualified massage therapist may help you relax. A skilled massage therapist would know how to use pressure to achieve the desired result.
Prescription pain relievers or muscle relaxants rest
If other medications don't relieve your pain, your doctor may recommend skeletal muscle relaxants or prescription pain relievers to control symptoms until fatigued muscles can rest.
You may also try therapeutic massage to help loosen constricted tissue and provide overall stress relief. Your doctor may provide advice to improve your poster while sitting, standing, or working to align your neck and spine. Consider reducing time spent on smartphones or tablets that place strain on your neck and shoulders. Contact your doctor at Redefine Healthcare today about your best neck muscle spasm treatment options.


Very knowledgeable staff. Kiran Khatri the Medical Assistant and Dr. Philip Ceraulo are phenomenal!! They are both very caring and compassionate.

Italian
Dr. Eric D. Freeman is a top-rated, best-in-class pain management doctor. He is a nationally recognized pain relief specialist and is among the top pain care doctors in New Jersey and the country. He is an award-winning expert and contributor to prominent media outlets.
Dr. Eric D. Freeman has been recognized for his thoughtful, thorough, modern approach to treating chronic pain. He has been named a "top pain management doctor in New Jersey" and one of "America's Top Physicians" for advanced sports injury treatments.
Why Choose Redefine Healthcare?
Same-day
appointments
Convenient locations throughout
Central & Northern NJ
In-network,
tier-one facility
24 hour turnaround on needed
notes and documentation
Comprehensive and
compassionate pain care
Non-surgical, interventional pain care
in Edison, NJ & Union, NJ