Pinched Nerve
Sometimes, it's tempting to just blow off irritating neck, back, hand or leg pain as "just a pinched nerve." Perhaps you've experienced a pinched nerve in the past that relieved itself with rest. But this time, you may have an underlying condition that needs to be addressed. Maybe you suffered a trauma that, without the proper treatment, can leave you with permanent damage. Don't risk it. The pain management doctors at Redefine Healthcare are experts at diagnosing and treating your pain. Call today to schedule an appointment.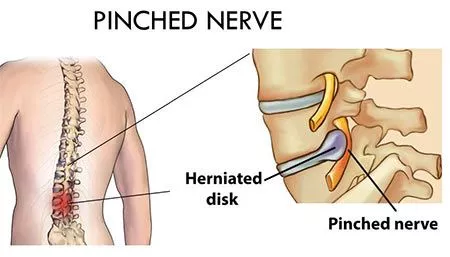 If you have a pain in your back or neck, it may be caused by a pinched nerve. When nerves are compressed or irritated by surrounding tissue, it's known as nerve impingement. When this happens, you may experience severe pain, discomfort, numbness or weakness, and the pain may even radiate to other parts of your body.
Proper diagnosis and treatment of a pinched nerve or any other condition causing back or neck pain gives you the best opportunity for healing. At Redefine Healthcare in northern New Jersey, you'll find comprehensive care from the best pain management experts who use the most advanced, non-invasive treatments to help you manage your pain. Don't let a pinched nerve in the back slow you down when solutions are so near at hand!
Symptoms of a Pinched Nerve
Your symptoms and their severity vary, based on the location of your pinched nerve. Some of the most common symptoms of a pinched nerve include:
Pain that may be sharp, burning or aching
Pain that radiates outward
Shocking, electrical-like sensations
Feelings of pins and needles
Numbness
Muscle weakness
You may experience a pinched nerve as upper back pain when it occurs near your shoulders, lower back pain that also may affect your legs, or neck pain that makes it difficult to move your head. You may feel like your hand or foot falls asleep frequently. Repetitive movements or certain positions worsen symptoms.
Nerve Damage and Radiculopathy
The term pinched nerve is a non-medical term. Symptoms caused by a pinched or damaged nerve are known as radiculopathy. There are different types of radiculopathy based on the location of the nerves affected. These include:
Cervical radiculopathy. This means a nerve has been compressed in your neck, often leading to numbness or weakness in the arms.
Lumbar radiculopathy. This refers to the lower back and is the area most often affected by pinched nerves. When the sciatic nerve is involved, it leads to a painful condition referred to as sciatica.
Thoracic radiculopathy. This involves your mid to upper back. Symptoms may even extend to the front of your body.
Causes and Risk Factors for a Pinched Nerve
A pinched nerve happens when there's pressure placed on a nerve from nearby soft tissues, bones or cartilage. The condition can be triggered by spinal degeneration or injury. Traumas like sports injuries or car accidents can cause a bulging or herniated disc that then puts stress on nearby nerves.
You're at increased risk of having a pinched nerve if you frequently participate in activities with repetitive motions, such as running, working on a computer or repeatedly swinging a hammer.
Some medical conditions also increase your risk of a pinched nerve, such as osteoarthritis, rheumatoid arthritis and thyroid disease. The added pressure on your spine when you're pregnant or obese also may impinge on your nerves.
How to Treat a Nerve Impingement
After a thorough physical examination, your New Jersey doctor checks your muscle strength and reflexes. Then he checks to see if your pain increases with certain motions. You may undergo additional tests such as a high-resolution MRI or an ultrasound. Nerve conduction studies may be done to see if the nerve is functioning normally.
Treatment for a pinched nerve starts with discontinuing any activity that aggravates the affected nerve. For some types of pinched nerves, your doctor may recommend wearing a splint to immobilize the area, done when you have carpal tunnel syndrome, a common pinched nerve condition. Learning ways to prevent pain, such as proper sitting and standing postures, help your recovery and prevent future pinched nerves.
Further Pinched Nerve Treatments
When simple lifestyle changes don't relieve the discomfort, physical therapy can help you learn to stretch and strengthen muscles near the pinched nerve to relieve pressure. Over-the-counter pain relievers help to relieve inflammation and pain. Corticosteroid injections reduce pain and swelling.
While your doctors at Redefine Healthcare always start with the least invasive treatments for pain, minimally invasive surgery may be required. The ligament that houses your carpal tunnel may need to be severed. If you need more extensive pinched nerve in the back treatment, your doctor may remove a bulging disc or bone spurs.
Ignoring back pain makes it harder to treat, and an early diagnosis prevents further damage. Contact Redefine Healthcare today. With locations in Union, Paterson, Clifton and Edison, you can receive compassionate care close to home. Pain management specialists get you on the path to a pain-free life as quickly as possible.
Why Whoose Our Pain Management Clinic in NJ?
Same-day appointments
In-network, tier-one facility
Comprehensive and compassionate pain care
Convenient locations throughout
Central & Northern NJ
24 hour turnaround on needed notes and documentation
Non-surgical, interventional pain care in Edison, NJ & Union, NJ
Pain Treatment Locations in Central and Northern NJ
2500 Morris Ave, Suite 220
Union, NJ 07083
925 Clifton Ave, Suite 203
Clifton, NJ 07013
10 Parsonage Road, Suite 208
Edison, NJ 08837
922 Main Street, Suite 201
Paterson, NJ 07503
185 Fairfield Ave, Suite 2A
West Caldwell, NJ 07006
870 Palisade Ave, Suite 205
Teaneck, NJ 07666
200 Perrine Rd., Suite 220
Old Bridge, NJ 08857
350 Forsgate Dr.,
Monroe Township, NJ 08831