Sacroiliac Joint Dysfunction
Ignoring or postponing treatment for back pain can lead to severe consequences. The risks involved with not getting the proper care include reduced mobility, fused bones, build-up of fibrous tissue, and even deformity. One cause of persistent lower back pain is sacroiliac joint dysfunction, which mimics many other back conditions. With pain management experts available nearby, you don't need to wait. The experienced providers at Redefine Healthcare offer safe, effective treatments that always begin with the least invasive procedures. Get the right to diagnose and the best treatment in northern New Jersey. Call today for a consultation.

Very organized and caring staff. Dr. Philip Ceraulo's expertise, guidance and caring has vastly improved my health. I have recommended this practice to multiple people and I am grateful for all they do. Keep up the great work…the only thing I would recommend and this has nothing to do with the practice is to have more parking available at the Edison office, sometimes it can be a challenge to find a spot.

Sandra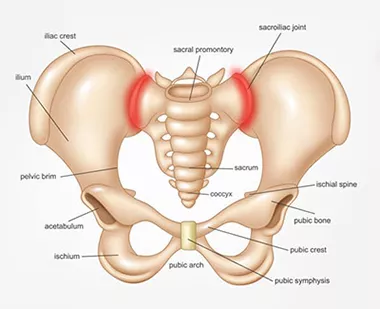 Sacroiliac joints are the two small joints at the base of your spine that connect the pelvis to your hips. The function of these joints is to absorb shock between the upper body and the lower body. Sacroiliac joint dysfunction is a condition caused by problems with these joints, and it's often the cause of lower back pain and leg pain.
Whenever there's either too much movement (called hypermobility) or too little movement (known as hypomobility) in your sacroiliac joints, you may experience pain, instability, or stiffness.
Whether your issues are caused by the sports you play or due to the way you walk, you'll find caring and compassionate medical experts at Redefine Healthcare. They can diagnose and treat sacroiliac joint dysfunction or other possible causes of your lower back pain.
Symptoms of Sacroiliac Joint Dysfunction
The symptoms of sacroiliac joint dysfunction often resemble other conditions, which is why you need to get a firm diagnosis from your New Jersey
pain-relieving doctor
. A
herniated disc
in your lumbar spine, a
pinched nerve
, or arthritis can lead to similar symptoms, such as:
Lower back pain. The intensity of the pain can range from mild to severe. It may be sharp, stabbing, dull, or aching. You may feel it on one or both sides.
Radiating pain. Pain sometimes radiates from your back to the hip, buttocks, or groin. In some cases, it may radiate down your leg, causing sciatica and knee pain.
Stiffness. Stiffness can reduce the range of motion in your hips and lower back by keeping you from the activity that led to the condition.
Instability. You may feel like your pelvis is going to give way while you're walking, standing, or in the process of sitting down.
Worsening pain.Activities that put pressure on the sacroiliac joint may increase the pain. These include jogging, running, and climbing stairs.
Movements such as bending, twisting, or turning over in bed may also increase your pain. You may feel muscle tenderness or tightness in your buttocks or hip area. Inflammation of the sacroiliac joint is called sacroiliitis.

The Cause of Sacroiliac Joint Dysfunction
Sacroiliac joint dysfunction can result from a fall, sports injury, or car accident. It can also occur due to abnormal movements of the sacroiliac joint, such as hyperextending because of loose ligaments. Degenerative joint diseases such as arthritis can lead to deterioration of the sacroiliac joints.
Pregnancy causes ligaments to stretch in preparation for childbirth. This extra strain on the lower back and pelvis can lead to pain in the sacroiliac joints, and for some women, this continues after pregnancy. Activities that repeatedly stress the joint, such as heavy lifting and contact sports, can increase the risk of sacroiliac joint dysfunction.

Diagnosis and Treatment for Sacroiliac Joint Dysfunction
To diagnose the cause of your pain, your doctor performs a complete physical exam and takes your medical history. He may test the strength and mobility of your joints or apply pressure to specific areas to confirm that the source of your pain is the sacroiliac joint.
Specialized tests rule out conditions that have similar symptoms.
Sacroiliac joint dysfunction treatment usually begins by resting the joint for one or two days while applying ice or heat. Over-the-counter pain medications relieve mild to moderate pain. If you're experiencing severe pain, your doctor may recommend prescription pain medication on a short-term basis. You can get a corticosteroid injection to reduce inflammation and pain.
Physical therapy helps restore range of motion, while a waist brace helps maintain stability if you have loose ligaments.
Last-Resort Sacroiliac Joint Dysfunction Treatment
While reserved for severe joint dysfunction that doesn't respond to conservative treatments, surgery is a last-resort option. A sacroiliac joint fusion requires the implantation of screws or rods. You may need a bone graft along the joint as well. Cutting-edge procedures that are minimally invasive improve the odds for successful pain reduction. Recovery times also are reduced using the latest techniques.
If you're living with lower back pain or other types of back pain, get expert care as soon as you can. Ignoring joint pain can result in further damage. Redefine Healthcare has convenient locations in Union, Paterson, Edison, and Clifton, New Jersey. Contact us today for an accurate diagnosis and treatment of your back pain.


Great staff ( Kiran & Dr C). Awesome Doc. I wouldn't feel as safe with anyone else!

Janet
Dr. Eric D. Freeman is a top-rated, best-in-class pain management doctor. He is a nationally recognized pain relief specialist and is among the top pain care doctors in New Jersey and the country. He is an award-winning expert and contributor to prominent media outlets.
Dr. Eric D. Freeman has been recognized for his thoughtful, thorough, modern approach to treating chronic pain. He has been named a "top pain management doctor in New Jersey" and one of "America's Top Physicians" for advanced sports injury treatments.
Why Choose Redefine Healthcare?
Same-day
appointments
Convenient locations throughout
Central & Northern NJ
In-network,
tier-one facility
24 hour turnaround on needed
notes and documentation
Comprehensive and
compassionate pain care
Non-surgical, interventional pain care
in Edison, NJ & Union, NJ