A large population suffers from back pain. While the type of pain may be different for everyone, several sleep-related solutions can reduce overall back pain in most cases, regardless of the underlying cause. If you are also experiencing back pain, changing the way you sleep may help you feel better and ease your discomfort. Visit Redefine Healthcare, New Jersey's premier pain management practice learn how back pain and sleeping positions are connected and which sleeping position may be most beneficial for what you are going through. Dr. Freeman is a board-certified spine and pain management specialist and offers the best treatments, including a change in the way you sleep, posture correction, and lifestyle habits to help you overcome a wide variety of back conditions.
It may come as a surprise that not all back pain is caused by serious medical conditions, like cancer or arthritis. Instead, it is often brought on by stress and strain from bad posture, awkward sleeping positions, and other lifestyle habits.
Dealing with back pain can be a hassle, especially at night. You may end up spending the whole night trying to find a comfortable sleeping position to rest easily, suffer from sleep deprivation or worse, a sleep disorder. Sometimes medications for back pain may also interfere with your sleep and make it difficult for you to rest peacefully.
If you are suffering from back pain, regardless of its causes, finding the right position can improve your quality of sleep. Here are the top 5 sleeping positions to try if you have lower back pain to feel better and enjoy good rest.
Sleeping Positions for Back Pain
When you sleep, you lose conscious control over your body and end up twisting your spine or tucking the pelvis in. An existing pain back can get further aggravated, resulting in restless nights. Knowing about correct sleeping positions can prevent the concentration of stresses on the spine, keep the back relaxed and ensure you do not get up with a stiff or painful back.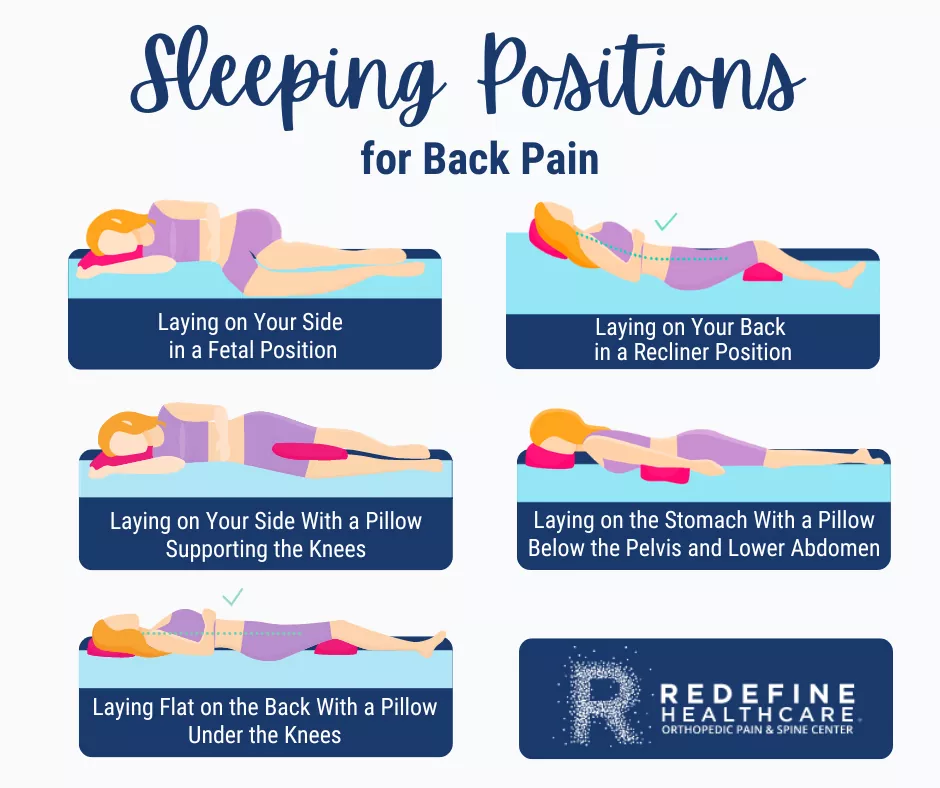 1 # Laying on Your Side in a Fetal Position
Laying on your side in a fetal position helps to open the space between the spinal vertebrae, lessen tension on the discs and prevent the spine from curving backward. Curling in a fetal position is particularly helpful if you have a herniated disc.
Lay on your back and gently roll onto your side
Tuck your knees towards your chest and gently curl your torso towards your knees
Your chest and arms should form a round, curled shape, near the knees
Sleep on whichever side is more comfortable but switch sides from time to time to prevent any imbalance
How Does This Position Help?
Your discs are soft cushions between the vertebrae in the spine. Herniation occurs when a part of the disc pushes out of its normal space, causing nerve pain, weakness, and other symptoms. Curling your torso into a fetal position opens the space between vertebrae and provides relief.
2 # Laying on Your Back in a Recliner Position
If you feel more comfortable dozing off on a recliner, it may be a good idea for you to sleep in a reclining position to avoid pain in the back. Laying on your back in a recliner can help you feel better, particularly if you have isthmic spondylolisthesis, a spinal condition that affects the lower vertebrae. It causes one of the lower vertebrae to slip forward onto the bone directly beneath it, resulting in pain.
Reclining helps reduce the pressure on the spine and offers support on the back by creating an angle between the hips, rear end, and thighs, which eases back pain and helps you sleep better. You can go for an adjustable bed or mattress so you can sleep this way with the best alignment.
How Does This Position Help?
People suffering from isthmic spondylolisthesis experience marked relief from pain. It is because the overlapping caused by this condition can be lessened by angles that are created by the elevation of the legs.
3 # Laying on Your Side With a Pillow Supporting the Knees
This position helps you sleep on the back but with the added benefits of a support pillow. The pillow is meant to support your knees. It reduces lower back pain and maintains proper alignment.
If lying on the back makes you uncomfortable, try shifting over to your side.
Allow your right or left shoulder to make contact with the mattress along with the rest of that side of your body.
Place a pillow between your knees.
If there is a gap between your waist and the mattress, use a small pillow for added support.
Whether you use one pillow or two, it is essential to understand that you should not continue lying on the same side or use the same side for sleeping.
Positioning a pillow to support the knees allows the weight of the body to be more evenly distributed. In this sleeping position, proper alignment becomes easy and helps you prevent many issues related to muscle imbalance, even scoliosis.
How Does This Position Help?
Sleeping on your side and using a pillow between the knees for support is essential. The pillow keeps your hips, pelvis, and spine in better shape and relieves alignment issues that lead to poor sleep and back pain.
4 # Laying on the Stomach With a Pillow Below the Pelvis and Lower Abdomen
Sleeping on the stomach can help to reduce back pain to a large extent. This is an ideal position for people who suffer from degenerative disc disease as it reduces the stress that rests on the space between the discs.
A pillow between the pelvis and lower abdominal area can ease the pressure on the lower back to keep the neck from straining. Some people need a pillow under their head, but others prefer to use it only in the pelvic area to keep the neck from straining.
How Does This Position Work?
It helps to ease the symptoms caused by degenerative disc diseases. Sleeping this way can prevent irritation in the space between the vertebrae and keep away the strain that occurs from sleeping on the back.
5 # Laying Flat on the Back With a Pillow Under the Knees
This position helps to keep the back in its natural curve and distributes the body weight more evenly. It reduces the stress on the lumbar spine with the help of the pillow. If you feel that sleeping on the back is the best position for you to relieve pain, it may help you sleep better.
Lay down flat on your back with a pillow under the knees
Place a pillow underneath your knees and keep your spinal neutral
The pillow is essential as it will keep the curve right in the lower back
You can also place a small, rolled towel under the small of your back for added support
How Does This Position Work?
This position works well for people with less specific back pain complaints as it takes care of discomfort from sleeping awkwardly. When the body weight is evenly distributed and spreads across the widest area of the body, it places the least strain on the pressure joints. It also results in better alignment of the spine and internal organs.
Back pain can affect the quality of your day-to-day performance, especially if it is severe and does not seem to be easing. Depending on the issue you are suffering from, the location of the pain, and its intensity, your doctor may recommend any one of these sleeping positions to ease your specific type of pain.
Sleeping the right way may enhance your quality of sleep, as well as increase your cognitive performance, mood, and energy levels. It also strengthens your immune system and protects you from various chronic diseases. A good night's rest is essential, and you must figure out the right way to keep your back pain away.
When to See Your Doctor for Back Pain?
If you are still uncomfortable after trying these sleeping positions or feel that your pain has increased instead of lessening, call your doctor. Your back pain and inability to sleep restfully during the night may be resulting from an underlying medical condition that needs proper diagnosis and treatment.
Frequently occurring back pain combined with lack of sleep or inability to rest well can affect your work and life to a large extent and result in other complications. Do not let back pain and bad-quality sleep disturb your normal routine. Schedule an appointment with Dr. Eric Freeman at Redefine Healthcare for advanced and effective pain-managed treatments to get rid of your discomfort as soon as possible. The spine specialist helps you understand your condition and explains how simple changes in your sleeping style can alleviate your pain and give you a chance to rest well.