Back pain is one of the most common reasons for missing work and activities you love in life. It not only causes discomfort but may turn debilitating if you do not take timely action and seek proper treatment. Visit Redefine Healthcare if your back is hurting from sitting, or you experience discomfort every time you try to move or stand up after sitting for a long time. Dr. Eric Freeman is aboard certified and experienced physician and has successfully treated patients suffering from various spine disorders. He helps you understand if it is a poor posture or some underlying medical condition causing trouble. The specialist uses the most advanced minimally invasive treatments to alleviate your pain effectively and ensures it does not cause any problems in the future.    
Pain in the upper or lower back is a common problem that usually results from leaning forward to look at a computer screen or a phone display for long periods. Sitting behind a big desk and working all day long may earn you a good salary, but it can also get you back pain if you are not careful and take care of your spine. Prolonged sitting can harm your body and lead to various spine and pain disorders.
Sometimes watching television for hours or sitting in an uncomfortable chair can also throw the back out of alignment and cause feelings of stiffness when you move or stand up. It could also be a result of some injury, activity, or underlying medical condition that needs diagnosis.
Focusing on the causes and factors that can worsen the pain or complicate your condition can help you seek the most effective treatment and preventive options to address this problem successfully.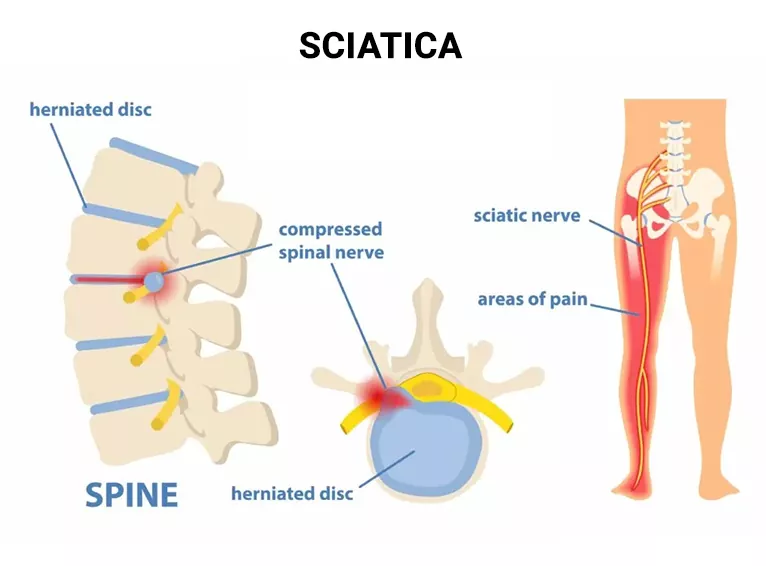 What Causes Back Pain From Sitting at Your Desk?
It may come as a surprise, but something as simple and natural as sitting can cause chronic and debilitating pain in some people. It is essential to understand that when we talk about the spine, there is nothing simple or easy about it.
Our back consists of the spine, various muscle groups, and myriad nerve endings. Pain or discomfort in any of these regions would be classified as back pain. It is important to note that the most common reason for lower back pain from sitting is caused by your posture. Sitting down for too long can actually push the body out of alignment, and poor posture behind the desk can be one of the reasons for back ache.
Also, if you keep sitting for too long, the discs in your vertebrae may start losing their cushioning. As a result, you will experience sharp, chronic pain, especially when sitting. You must also know that back is not the only part of the body that hurts after prolonged sitting. Neck pain can also result from sitting for extended period and in most cases, these problems occur together.
Most Common Causes of Back Pain
Some of the most common reasons why so many people experience back pain while sitting include:
Muscle strain
Degenerative disc disease/ osteoarthritis
Poor posture
Lack of physical activity or being out of shape
Determining the causes of back pain is crucial for deciding the best course of treatment. Unless you get to the root of the problem, you cannot take a specific approach to address it successfully.
How to Recognize Back Pain From Sitting?
The most important question is to determine if your back pain is caused by sitting and not something else. You may experience back pain from some other condition related to the back, neck, or nerve, or it could be resulting from muscle tension, some injury, or sleeping the wrong way.
To get the right diagnosis, you must answer the following questions honestly:
Are you leading a sedentary lifestyle?
Is your chair ergonomic?
Are you slouching behind your desk?
Has the pain evolved gradually?
Answers to these questions may help you solve your problems without wasting time.
Is Sitting a Problem – Does It Cause Back Pain?
The truth is that back ache is not just all about sitting. If sitting was the only cause of back pain, almost everyone would be suffering from this problem in one way or another.
Sitting causes back pain in the following circumstances:
When you are sitting in an improper chair
You sit for too long
You continue to sit in an unhealthy position
You ignore these problems for far too long
It may seem like the perfect coincidence, all the factors coming together. However, people working a desk or computer job can relate to all these factors that align and may have even experienced back pain from sitting at a desk for long hours.
It is best to do a bit of research on the concept of sitting the right way to determine if you are doing anything wrong. It will give you an idea of what lifestyle and career choices you can make to prevent further pain and discomfort.
Is It Possible to Treat This Back Pain?
There are several ways to fix and treat this back pain. It depends on the place of origin of the problem and the part of the back it is affecting.
While it seems to be the best option to rest your back by sitting rather than standing, in many cases a bad sitting posture can aggravate the problem. Maintaining the correct sitting position and keeping core muscles toned to support the spine can help to treat and prevent this pain to a large extent.
In most cases, the course of action is pretty obvious.
You need to do the following to seek relief:
Fix your sitting posture
Invest in better, ergonomic furniture
Lose some weight
Strengthen your back muscles with exercise
Strengthen your core muscles
To cover it all and ensure you do not experience back pain frequently, you will have to focus on the factors contributing to the problem to come up with the best solution. In rare cases, you may have to go for surgical operations available for spine-related injuries if the need arises.
Healthcare experts group the treatment approaches into two categories:
Home Remedies for Relieving Back Pain
Home remedies that help you relieve back pain at home include:
Applying ice – Cold reduces the inflammation affecting your back and causing pain. Put an ice pack, covered in a towel, on the painful area for about 20 minutes, after every few hours or so.
Heating pad – After controlling the inflammation with ice, use a heating pad to relax the muscles, increase the flow of blood to the affected area, and promote healing.
Using support for the affected area – Placing a rolled-up towel or a special lumbar pillow at the base of your spine while sitting makes you sit up straight and provides stability for the spine.
Over-the-counter medication – Over-the-counter pain-relieving medications like nonsteroidal anti-inflammatory drugs (NSAIDs) help to reduce the discomfort and swelling associated with back pain.
Yoga or alternate therapies – Yoga and other related therapies help the body stretch and strengthen the muscles.
Go for a massage – A good massage can loosen up the tight and stiff muscles and help you relax.
Change your posture – Go for a standing desk or one that has been ergonomically designed to your posture to prevent back and neck pain.
These proactive approaches provide effective solutions and give you a chance to battle back pain resulting from prolonged sitting.
Medical Treatments
The best way to tackle back pain is to seek the help of a medical professional with experience in treating people who suffered from lower back pain due to sitting. Your doctor may recommend treatments depending on the severity of the back ache.
Some of the best medical treatments include:
Physical therapy – It is a reliable method of strengthening the back muscles to provide more support for the back.
Prescription medication – Muscle relaxants, antidepressants, analgesics, nerve blockers, and steroid injections are known to work in such cases as they alleviate intense and recurring pain.
Surgery – In rare cases, surgery is usually the last resort for relieving back pain when no other option offers a long-term solution.
Discuss your symptoms with the doctor to have your condition accurately diagnosed and get the best advice for your discomfort. As a sedentary lifestyle and a desk job are prerequisites to back pain from sitting, he recommends the most effective treatment plan depending on the severity of the symptoms to relieve your pain.
Warning Signs to Watch Out For
Back pain from sitting usually clears up with better sitting posture, gentle stretching and exercise, and massage that loosens the tensed muscles. However, you must be careful of the warning signs and see a doctor immediately if you experience one or more of the following symptoms:
Persistent pain that does not improve with home remedies or over-the-counter medications
Tingling or numbness in the back or legs
Fever
Weakness
Loss of bladder or bowel function
Unexplained loss of weight
Inability to move easily
These symptoms may be a warning sign of a serious medical condition that must be checked by a medical professional right away.
Do not take your back pain lightly or leave it untreated, as it can worsen and lead to further complications. Schedule an appointment with Dr. Eric Freeman at Redefine Healthcare to determine its possible causes and what measures can alleviate the pain. The pain specialist evaluates and diagnoses your condition based on your symptoms or level of discomfort and comes up with the best treatment plans to keep your back in its best possible shape. You can look forward to comprehensive, highest-quality care for your spine and back-related issues as the experts focus on addressing the source of your pain to enhance your quality of life.