Waking up with debilitating shoulder pain is not pleasant. It can affect your mood and routine activities as the shoulder joint is responsible for a wide range of motions. Whether it is resulting from your sleeping position or there are other underlying issues behind it, it is essential to find out possible reasons to alleviate this pain. Visit Redefine Healthcare for specialized care and the most advanced pain management treatments to get rid of this discomfort. Dr. Eric Freeman is an experienced and board-certified pain and rehabilitation specialist who comes up with the most effective therapies to address your pain and its causes. He understands what you are going through and ensures you are back to your normal self within a few days.
Long-term chronic conditions, old injuries, or a bad night may be the reason behind your shoulder pain when you get up in the morning. Certain positions, such as sleeping on your side, can also put additional stress on the shoulder. It is because when you sleep on your side, the shoulder has to bear the weight of the torso.
There are many other conditions too that can cause pain in the shoulder when you are sleeping. These conditions can aggravate the pain in the affected shoulder if they are not treated timely. If your shoulder pain persists and does not get better on its own or continues for a longer time, it must be evaluated by a healthcare provider to prevent further complications.
Symptoms of Shoulder Pain From Sleeping on Your Side
Pain is the first thing you notice when you wake up, and it can be a pretty intense feeling. If you are experiencing it for the first time, take note of what you felt and where, as this information may help your doctor in treating it.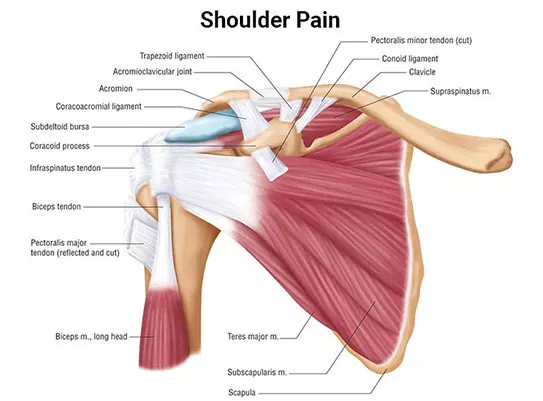 Some common symptoms of shoulder pain from sleeping are:
Dull ache around the shoulder that is painful with movement
Inability to stretch your arms or difficulty in moving your shoulders normally
Sharp pain when you try to lift the arm
Weakness in the arm or weak grip when you try to hold something
Difficulty in performing routine tasks such as brushing or dressing yourself
Possible Reasons for Shoulder Pain From Sleeping
There are several possible causes of shoulder and arm pain that could happen while you were sleeping, including injuries and referred pain. The most common ones include:
Rotator cuff injury
Shoulder bursitis
Shoulder impingement syndrome
Osteoarthritis of the shoulder
Frozen shoulder
It is important to note that all these problems can occur regardless of your sleeping position, but a bad sleeping posture can make things worse. The only solution is to visit your specialist who will work out the causes of shoulder pain and help you sleep better.
Shoulder pain usually does not happen on its own. Chances are you will have issues with your upper extremities in general that are causing the discomfort.
How Shoulder Pain Results From Sleeping in the Wrong Position?
Most people sleep in one preferred position. It is not easy to make a change to your sleeping position, but it is necessary as lying on your side for hours may cause pain in the shoulder. It is because when you sleep, the majority of the upper body weight rests on the shoulder. Healthcare experts believe that the solution to fixing this problem is adopting a better sleeping position.
Optimal Sleeping Position to Treat and Prevent Shoulder Pain
Finding the right position to sleep is the simplest and the most effective solution for treating and preventing shoulder pain. Sleeping on your back distributes your weight more evenly and helps you seek relief. You can also nest a small pillow between your shoulder blades while sleeping on your back to alleviate the discomfort.
How to Train Yourself for Sleeping on the Back
For some people, sleeping on the back is next to impossible. Luckily, you can train yourself to sleep on your back to get rid of the annoying pain when you wake up.
Here is what you can do:
First of all, get the right mattress that supports your back when lying down flat.
Next, you need a good pillow that offers adequate support for your neck.
You can also add extra pillows under the knee or lower back for extra support.
If you have enough room on the bed, you can spread your arms and legs too.
As a precautionary measure, you can surround yourself with extra pillows to create a physical barrier that prevents you from turning.
It may seem like a long process of training yourself to sleep on the back, but it is an effective way to prevent shoulder pain that results from sleeping on the side.
Some Other Benefits of Sleeping on Your Back
Sleeping on your back is not only good for your back pain but there are several other benefits too. They include:
Better alignment of the spine
Less chance of tension headaches
Reduced chance of sinus buildup
Less irritation for your facial skin
Keeping in mind its benefits, sleeping on the back is definitely a habit that is worth developing. It is necessary to understand that changing the sleeping position can fix a lot of shoulder conditions. Whether you suffer from a frozen shoulder or shoulder bursitis, changing the way you sleep can help you find relief.
Risk Factors for Shoulder Pain
Some underlying diseases or illnesses may be causing the pain or worsening it. Frozen shoulder is also caused by diabetes, stroke, thyroid disorders, shoulder injuries, Parkinson's disease, and even cancer.
Other risk factors that increase your chances of shoulder pain are your age, sex, and family history of diseases like osteoarthritis. Inflammation around the joint and muscular imbalance of the shoulder can aggravate your condition.
When to See a Doctor for Shoulder Pain?
If you continue to experience shoulder pain first thing in the morning or your pain is worsening, seek medical assistance. There are a lot of people who sleep on their side without suffering from any pain in their shoulders. Visiting your doctor is the best way to determine the reasons behind your pain and what you can do to prevent it.
Some possible solutions to preventing shoulder pain include:
Frequent exercise – An increased flow of blood can facilitate healing.
Over-the-counter pain-relieving medications – Your doctor may recommend acetaminophen pills or anti-inflammatory medications to keep the pain and inflammation down.
Changes to pre-bedtime routine – Avoiding mid-day naps and too much caffeine can reduce possible discomfort before you sleep.
Stretching – Stretching your shoulders before going to bed can help as increased blood circulation can expand your range of motion and relieve tension.
Stop stretching if it fails to ease the pain or you begin to experience any new pain or discomfort because of it. Try to avoid any activities that could further strain your affected shoulder. If your pain does not subside after a week, schedule an appointment with your doctor.
Long-Term Effects of Shoulder Pain
Waking up with shoulder pain is not a big problem, but if it happens again and again or turns debilitating, it is serious. Sleeping in an awkward position can permanently damage your joints if you are not careful and seek the right treatment. The constant pressure would eventually lead to structural damage. The damage creeps up so gradually that you will not even notice something is not right until it is too late.
Pain is a warning sign that something is not well, and it must be investigated and treated right. Enduring shoulder pain is not normal or acceptable, and you must start searching for a solution as soon as possible.
Schedule an appointment with Dr. Eric Freeman at Redefine Healthcare to find out what is wrong with your shoulder and what you can do about it. The specialist focuses on your symptoms to determine if it is the way you sleep or some other factors are affecting your shoulder movement and causing pain. He recommends the best solutions to ease your pain so that you wake up all fresh and energetic, ready to face the day.