Chronic neck pain should never be ignored, as it can limit your ability to feel active and productive. No matter how sharp the pain is or how long it lasts, you need to find the best solutions to get rid of it for good. At Redefine Healthcare you can look forward to comprehensive, highest-quality care that eases your neck pain. Whether your chronic neck pain is resulting from poor spinal alignment, some injury, or overuse of muscles, Dr. Eric Freeman can help you get the relief you seek. He figures out the causes behind your condition and recommends the best treatment options that ensure a quick recovery and prevent further complications.
Neck pain is a common complaint these days as most people spend a better part of their day using computers and smartphones, which leads to stiffness and tension in the neck muscles. As most of our activities include spending hours hunched over gadgets and appliances, it is no surprise that the neck and spine are the most affected body parts.
Neck pain varies in intensity. It may range from a dull ache to sharp and shooting pain. It can interfere with daily activities and reduce your quality of life if left untreated.
What Is Chronic Neck Pain?
Sometimes neck pain is a minor issue that can be taken care of at home with a few lifestyle changes and gentle stretches but chronic neck pain can be serious. It can affect your work and life and can also be a sign of some underlying condition that may not go away on its own and requires medical help. Chronic neck pain should not be taken lightly. It needs immediate care to prevent further complications and invasive surgical treatments.
Pain is identified in two different ways, acute and chronic. Most people with back or neck injuries suffer from acute pain that lasts about four to six weeks and goes away without medical treatment. Chronic pain lasts for more than three months and requires medical treatment.
Determining if your neck pain is due to some strain or stress or if it is being caused by something more serious is not easy. You must visit a specialist for accurate diagnosis and proper treatment for long-term relief.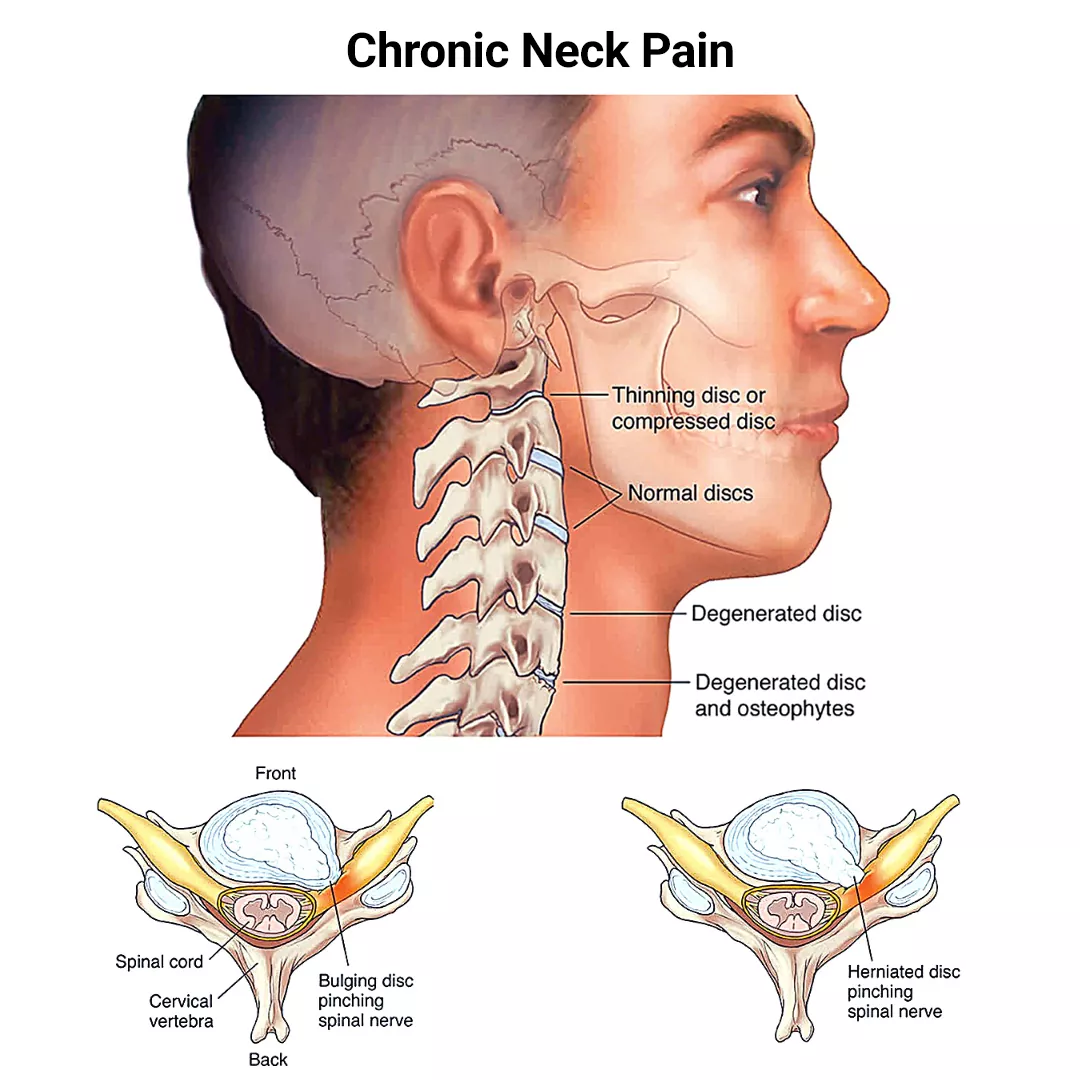 Common Causes of Chronic Neck Pain
There are many different causes of neck pain. It may be resulting from something as simple as poor posture, muscle strain, and nerve compression. Depending on the symptoms you are experiencing, it can be difficult to identify which of these is causing the pain.
Some of the most common causes of neck pain include:
Muscle strain that comes from activities that place a lot of uneven stress on one side of the neck
Repetitive lifting, especially if the load is heavy or you are using one side of the body to carry these loads, especially one shoulder
Overuse or overexertion of neck muscles
Sleeping in a weird position or sleeping on a pillow that does not provide adequate support to the neck
Nerve compression when one or more of the nerves around the neck get pinched or pressed as they leave the upper spine
Too much stress due to work or personal reasons can tense up the muscles, causing pain and discomfort in the neck
The earliest signs of nerve compression are similar to the symptoms of a strained muscle and cause pain and aches around the neck, upper back, and shoulder. It is because when the nerves exit the upper spine, they travel through the shoulder and down the arms and hands. If a disc in the upper back slips out of place or the tissues in the neck get inflamed and swollen, the nerves in that area get pinched. In such a condition, you will experience pain and other symptoms in your neck as well as anywhere along the path of that nerve.
Other causes of neck pain include:
Slip and fall accidents
Sports accidents
Car accidents
Cervical disc herniation
If you have been in an accident, it is necessary to seek medical attention right away, even if you do not think you are injured. Neck pain resulting from accidents can take weeks or even months to appear. If you have a neck injury, you may also experience headaches, arm discomfort, numbness, and tingling in your hands or fingers.
Consequences of Delaying Treatment
Delaying treatment of chronic neck pain can result in serious consequences. If you have a compressed nerve in your shoulder and do not get timely treatment, you can end up with shooting, electrical-like pain that extends into the back and all the way down the arms. After some time, a pinched nerve can weaken your muscles and also interfere with your ability to use your hand. It can lead to permanent damage. Delaying care could result in a lifetime of disability.
A muscle strain should not be taken lightly. It can cause inflammation that in turn presses on a nerve or puts extra pressure on other areas of your neck and shoulders, compensating for the strain. It can also lead to pressure on the nerves. A seemingly minor muscle strain can result in nerve compression that can cause severe and even permanent damage. Any type of chronic neck pain that goes on for days without respite needs professional assessment. Delaying treatment or not getting proper treatment can result in irreversible complications.
Why You Should Not Ignore Chronic Neck Pain?
If you are experiencing neck pain, it is necessary to seek treatment right away. Only proper diagnosis and testing can determine the exact reason behind your neck pain and detect if it is a strain or something serious behind your discomfort.
Here are a few reasons why neck pain should never be ignored:
It can worsen over time – If you do not get it treated timely, the pain will take a turn for worsen and may even lead to more complicated problems.
It affects your daily activities – Neck pain can interfere with your daily activities if you let it go untreated. It can affect your ability to work, exercise and even sleep.
It can lead to other health problems – If you ignore neck pain, it can lead to other medical issues such as headaches, arm pain, and even depression.
It can be a sign of a more complex issue – Chronic and persistent neck pain can be a sign of an underlying condition such as cancer or herniated disc.
It is important to see a doctor to rule out any potentially serious causes if you are experiencing neck pain.
Neck Pain Treatment
There are many ways to treat neck pain. If your neck is hurting due to stress, relaxing techniques or massage can help to ease the pain. If your discomfort is resulting from some injury, you may need to see a physical therapist.
Treatments for chronic pain that is resulting from some old injury to stress include:
Medications including nonsteroidal anti-inflammatory drugs (NSAIDs) to ease pain and inflammation and muscle relaxants to help the healing process
Manual therapy to realign or reset muscles
Rehabilitative exercises and stretches to loosen tight muscles
Relaxation techniques that ease away the tension
Chiropractic adjustments
Custom exercise plan
Massage to stretch and strengthen muscles and tendons in the neck
Corrective care for the neck and spine to restore the curve in your neck
Your doctor may recommend chronic pain management treatments to avoid long-term medications and surgery. Serious conditions such as disc herniation and cancer may require surgery.
Find Out What Is Causing Your Chronic Neck Pain
The best way to know what is causing your neck pain is to visit your healthcare provider for a thorough analysis of your symptoms. The doctor performs a physical exam and runs some tests to figure out the exact causes of your chronic neck pain, as this is the first step towards feeling better and preventing further pain.
Schedule an appointment at Redefine Healthcare, New Jersey's premier pain management practice, for effective solutions for your neck pain. The board-certified, fellowship-trained neck and spine specialists understand how neck pain affects every aspect of your life and offer treatments that provide relief from your particular discomfort. Dr. Eric Freeman comes up with the best therapies to eliminate pain so you can get back to your normal activities in the shortest possible time. He helps you figure out what may be causing your discomfort and recommends the best therapies to make you feel better.