Muscle spasms in your lower back, called the lumbar spine area, can stop you from enjoying your life. Don't suffer sleepless nights or struggle through days full of discomfort from uncontrollable muscle spasms. Instead, seek out the counsel, diagnosis, and treatment of the pain management specialists at Redefine Healthcare, with offices in northern New Jersey. They take the time to find the real cause of your lumbar back spasms and then devise an effective treatment plan for you, starting with non-invasive remedies. To get out of pain fast, call the Redefine Healthcare location nearest you.


I can't say enough good things about Dr. Ceraulo at Redefine Healthcare. He actually spends time with you explaining all your options for pain relief. Then a game plan is made that is good for you.
I wish all Doctors were like him.
Brielle
Lumbar muscle spasms are involuntary, continuously contracting or tensing muscles in your lumbar region, which is your lower back. The most common reason for low back muscle spasms is a back injury. A lumbar sprain can involve muscles, tendons or ligaments. In some cases, if the pain point from your back spasms is near your spinal cord or the nerve roots exiting the spinal cord, you should seek medical help soon. Otherwise, you can end up permanently damaging your spine.
Consulting a lower spine specialist, like one of the experienced doctors at Redefine Healthcare in New Jersey, can allay many painful problems associated with your lumbar back. Most spinal problems can be effectively resolved through pain management techniques. Whether you have upper back pain, lower back pain, or middle back pain, you can always expect to find an underlying problem, such as:
Symptoms of Lumbar Muscle Spasms
Muscle spasms are never standalone issues; there are always accompanying symptoms that can make diagnosis difficult. A trained spine specialist from Redefine Healthcare understands that your pain needs to be addressed while following the symptoms to their source. Musculoskeletal, neurological, and nerve-related issues can cause certain serious spine problems.
Many people who complain about headaches, which are neurological in nature, often come with muscle spasms in your neck. Your pain management doctor uses every piece of information to reach a definitive diagnosis, which is the first step toward effective treatment. If you have lumbar muscle spasms, you may also experience symptoms that include:
Muscle weakness in your arms or legs
Foot drop, where you feel like you're dragging your toes
Stiffness in your back
Numbness or a tingling sensation on one side of your leg or buttocks
Loss of control over your bladder or bowels
Loss of sensation in your limbs.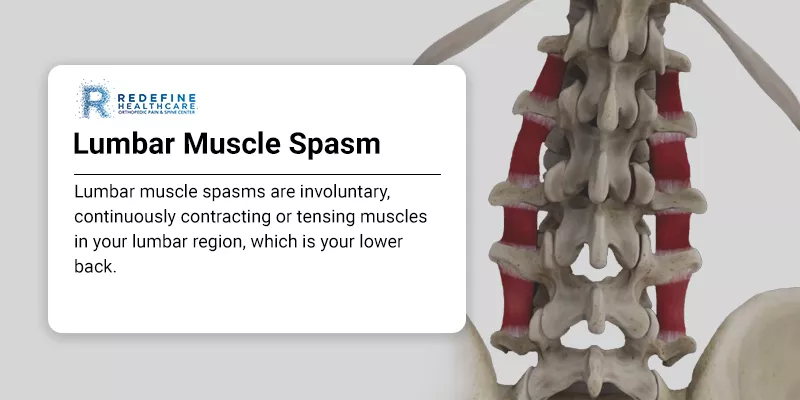 Lumbar Muscle Spasm Causes
When you struggle to lift heavy objects or push yourself in high-impact workouts or sports, the exertion stresses and strains your back, especially your lumbar spine. Muscle spasms can result, especially if you aren't drinking enough water or have low levels of potassium and calcium in your bloodstream. Tight leg muscles and weak stomach and leg muscles may also cause lumbar muscle spasms.
Untreated underlying medical conditions may cause your spasms. Visit an experienced pain management doctor in New Jersey to find the cause for your specific case of spasms. Tell the specialist if you have an existing condition that may be causing your lumbar muscle spasms. Underlying causes include:
Arthritis, especially osteoarthritis, rheumatoid arthritis, or another arthritis in your neck or foot
Problems in the curve of your spines, such as lordosis or scoliosis
Spinal stenosis
An epidural abscess
Kidney stones or kidney infection
Gallstones
Diabetes
A spinal tumor
Treatments for Lumbar Muscle Spasms
At your initial consultation, your northern New Jersey spine specialist asks you several questions that you need to answer truthfully. Certain medications can cause muscle spasms. After a confirmed diagnosis, your treatment usually starts with mild remedies like icing or heating your lower back.
Your doctor may prescribe muscle relaxers to calm your muscles. Since lumbar muscle spasms are usually part of the problem, your spine specialist may also recommend:
Avoiding certain activities that aggravate your back;
Learning the proper technique to lift heavy objects;
Understanding that any rigorous exercise or sports require a proper warm-up for your muscles, shifting gradually from low-impact to high-impact exercises;
Doing physical therapy to strengthen your back, leg and stomach muscles;
Going for a massage or acupuncture that focuses on your problematic back;
Consulting a dietician to address the low electrolyte levels in your blood;
Going on a diet, as any extra weight around your stomach puts more stress on your lower back as you walk;
Getting electrical muscle stimulation therapy that helps strengthen and rehabilitate the muscles;
Having trigger point injections that calm the aggravated muscles and reduce the pain.
Prevention
There is no 100% effective way to prevent muscle spasms in the lower back. However, proper self-care can reduce the risk of chronic back problems and accompanying lower back cramps.
To protect the lower back, use the following self-care techniques:
Stretching exercises to improve blood flow, reduce painful spasms, and better support the lumbar spine.
Maintain good posture throughout the day and during prolonged periods of sitting.
Learn how to reduce the stress that triggers pain and back muscle twitching.
Get up and stretch after you've been sitting for 30 minutes.
Outlook / Prognosis
Most individuals will experience a significant improvement in muscle spasms after resting for a few days or weeks. If a nerve irritation caused the spasm, you might require other treatments. The outcomes from these treatments may vary. Consult a spine specialist for medical advice on how to stop back spasms and achieve pain relief with an effective multifaceted approach.
When you're ready for the muscle spasms in your lower back to the end, contact the nearest Redefine Healthcare location in New Jersey. Get out of pain and get on with your life.


Everyone there was very friendly. I had a nerve block and the staff explained everything to me. They also kept checking on me to make sure I was ok. During the procedure, Dr Freeman asked me several times how was I.

Sharon
Dr. Eric D. Freeman is a top-rated, best-in-class pain management doctor. He is a nationally recognized pain relief specialist and is among the top pain care doctors in New Jersey and the country. He is an award-winning expert and contributor to prominent media outlets.
Dr. Eric D. Freeman has been recognized for his thoughtful, thorough, modern approach to treating chronic pain. He has been named a "top pain management doctor in New Jersey" and one of "America's Top Physicians" for advanced sports injury treatments.
Why Choose Redefine Healthcare?
Same-day
appointments
Convenient locations throughout
Central & Northern NJ
In-network,
tier-one facility
24 hour turnaround on needed
notes and documentation
Comprehensive and
compassionate pain care
Non-surgical, interventional pain care
in Edison, NJ & Union, NJ